Our beliefs about God and His purposes shape how we serve the poor. UGM is here so people created in His image can experience real change in a safe, healing environment.
We believe no one was created for mere survival on the streets.
"I got stuck ... I was just going to die this way."
Mike was an accomplished distance runner, achieving a 4:12 mile and many other successes in athletics all the way through college. When he graduated with a business degree and no longer had sports to shape his identity, Mike began to lose his way.
At first drinking in secret, Mike came to depend on alcohol to make it through each day. The addiction cost him jobs and relationships until he found himself on the streets in California. For three years, he lived by picking up bottles and cans to earn about $20 a day – most of which he spent on alcohol. "I was just kind of existing to exist."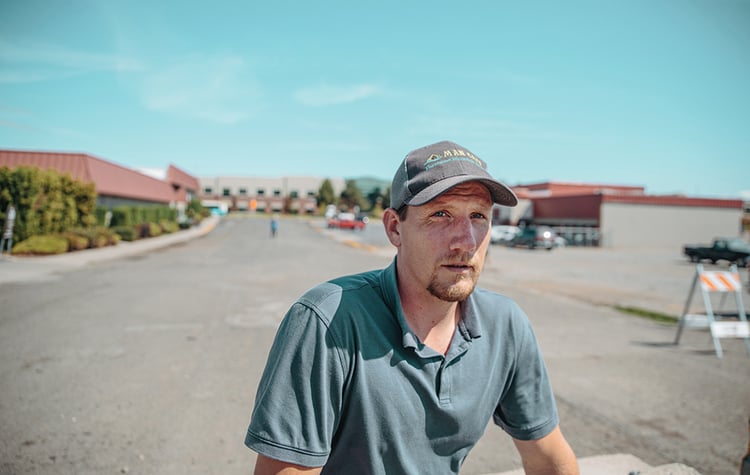 But God got a hold of Mike through a "chance" encounter. A stranger asked if Mike wanted to use his phone. He said yes, thinking he should at least let his Coeur d'Alene family and friends know he was alive.
Mike called his friend Steve and told him where he was. Steve offered to come help, but Mike didn't have much hope. "I think I'm going to die this way," he said.
The next time Mike arrived to cash in his recyclables, an employee told him someone had called the recycling company and would be there to meet him on Saturday. When Steve and Mike's brother-in-law arrived, they didn't recognize him at first.
Seeing his friends helped Mike choose change. "They told me, 'We can't do this for you. You have to want it.... Do you want help?' And I just sunk and said yeah." The three men drove straight from Southern California to Spokane. After Mike spent a few days at a detox center, his mom and stepdad dropped him off at UGM.
It wasn't easy coming to a homeless shelter, but he told himself, " 'Well, you made the decision to come here. You've got to go through with all of it.' And... it's just amazing how things started lining up."
Mike is now in the LIFE Recovery Program. He's enjoying biking and other athletic pursuits again, but he's also learning a new, deeper identity.
"God has intervened, and I can put my hope in Him and recover."
We believe healing for brokenness begins with connection and knowing God's love.
Gwendolyn's scars from domestic abuse ran deeper than the physical when she sought refuge at the Crisis Shelter. As staff explained the check-in, she had trouble trusting them or thinking for herself at the simplest level.
"No," her mind echoed her abuser. "This person tells me when I can take a shower and take care of myself. I already took my shower, I'm not allowed to."
It took time for Gwendolyn to be able to receive what the shelter offered. "I had nothing to live for. The only thing that was keeping me alive were my children, and they were taken from me. I didn't think I would ever see them again."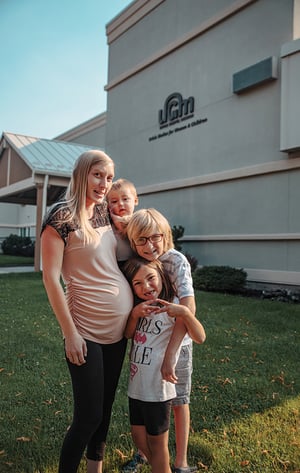 As her mind began to stabilize, Gwendolyn began to hear the message of love God is sending every day at UGM: "It takes a little bit of faith. Even if you have none, you have a support network that reaches out: 'No, you have worth. You're here for a reason.' That's what is the most helpful."
With that support, Gwendolyn took the necessary steps to reunite with her kids. Because the Crisis Shelter serves moms and children together, she was relieved that her traumatized children would have regular meals and be surrounded by caring people.
Gwendolyn's case manager is helping her take steps toward permanent housing, and her spirit is reviving.
"This is a spiritual place and so there's chapel and Bible study and all this other stuff that I wasn't used to. I've gotten to explore that. ... My biggest thing that I still enjoy is the chapel, especially the singing.
"I came from nothing, felt like nothing, and now I have a purpose and I believe in myself because others believed in me. That's what I needed all along I guess."
We believe people should not be defined by their present condition or past mistakes.
After losing his mom at a young age, gangs became Zachariah's family, but he knew deep down that lifestyle was wrong. "It was always conflicted. I had a conscience."
Still, change was hard. Zachariah read the Bible in prison, accepted Christ and tried to leave his past behind, but it was a struggle. When he couldn't get a job after going back to school and trying to start over, he lost hope, stole a car and landed back in prison. He knew he couldn't make it without support.
Zachariah prayed that someone would look past his appearance, see his heart, and give him a job. This time when he got out, he checked into UGM and started working at the Thrift Stores.
"I knew I couldn't make it without some kind of foundation. … I felt weak and vulnerable, and especially with the change I was going through in my mind and my heart, ... I was scared that I'd fall back. So when that door opened, I stepped right in, all the way in."
Working at the downtown store became a big piece of the foundation he was looking for. Zachariah loves its uplifting, Christ-centered environment, learning new skills, and serving the customers. He has friends and spiritual support in his church family at Indian Trail Church.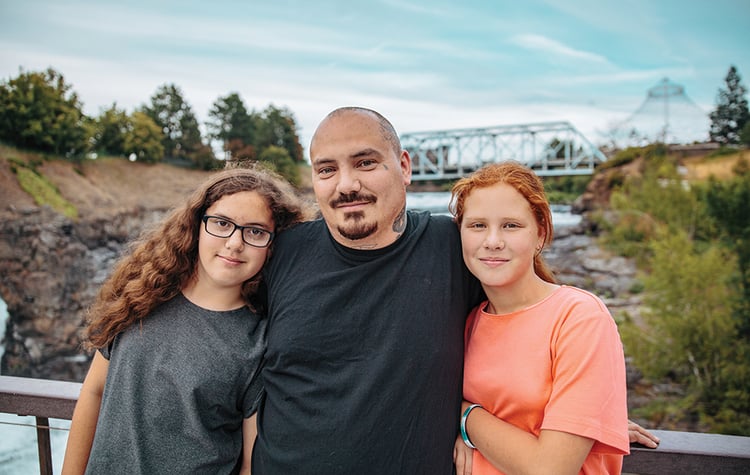 On that foundation, Zachariah can also be a loving dad and give his daughters, Elexis and Ariannah, a good home. Starting with his heart, God has restored Zachariah to the person he was made to be.
"My true nature wasn't a gang member. It wasn't a drug addict. I'm in my true nature now."