Part 1 of the history of UGM covered our founding in 1951 through the retirement of Executive Director Harry Altmeyer in 1987. We pick up as his son Phil Altmeyer takes the reins and ushers in a period of growth to meet the growing needs of the community.
Aug. 31, 1987
Executive Director Harry Altmeyer and his wife Earline retired and passed the baton to Phil and Caryl Altmeyer.

1988
Caryl Altmeyer's brother Dave Wall joined UGM staff to, as the newsletter put it, "assist us in the office with our new computer." Dave and his wife, Becky, went on to wear many hats at UGM, often several at once, over the next 30 (and counting) years. They still energetically serve both in ministry to residents and in building partnerships within the community.
1989
UGM's first youth camp, headed by Juvenile Detention ministry director Danny Beard and seven volunteers, was held at Riverview camp, with 20 teenage boys participating. A camp for girls started the next year.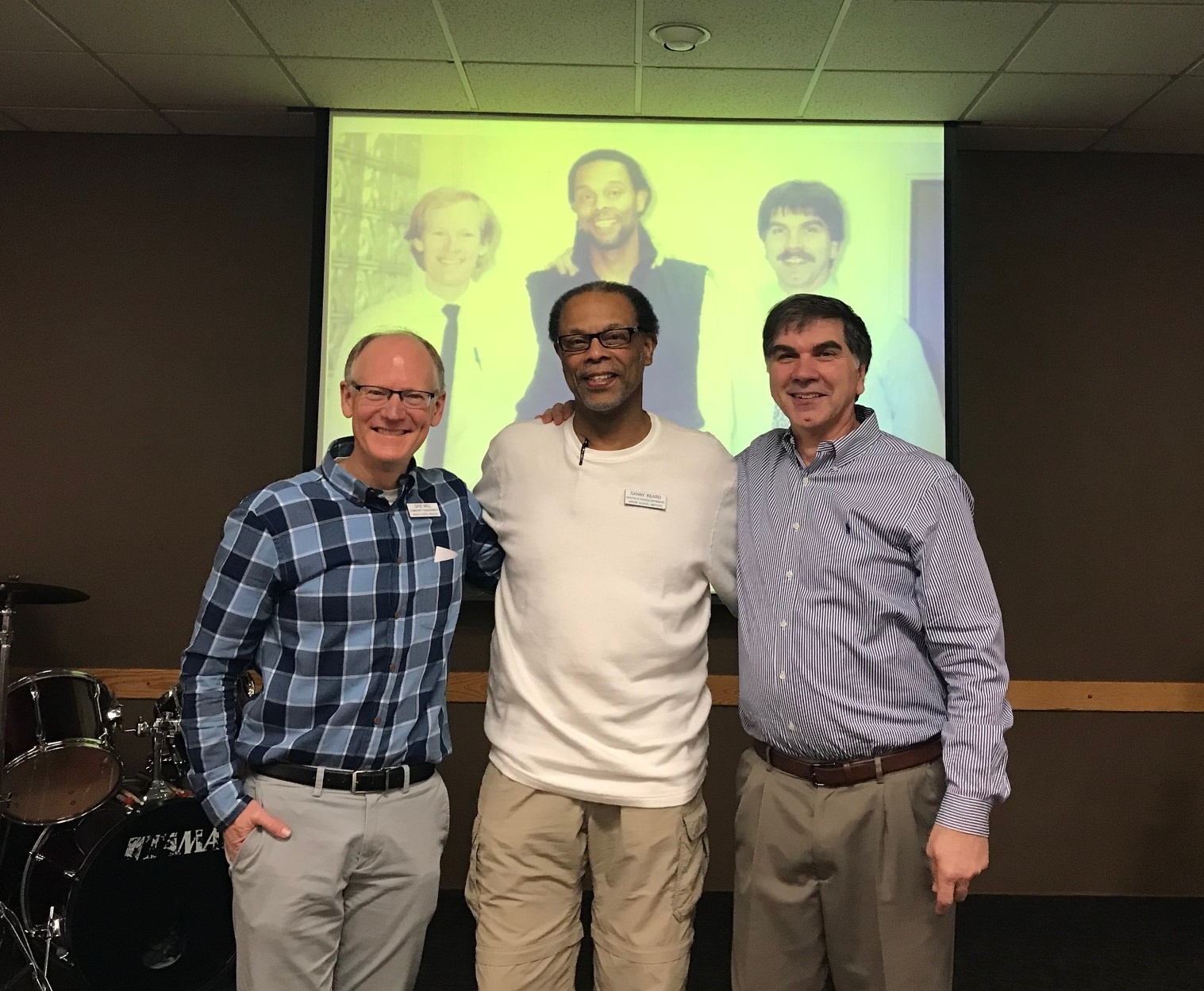 Dave Wall, Danny Beard and Phil Altmeyer are all still serving at UGM more than 30 years after they started.
1990
The Men's Shelter moved into its current home at the 1224 E Trent facility after $3 million of funding and countless volunteer hours remodeling the former Broadway Splicing building. Thanks to strong community support, UGM officially paid off all of the debt associated with the purchase the next year.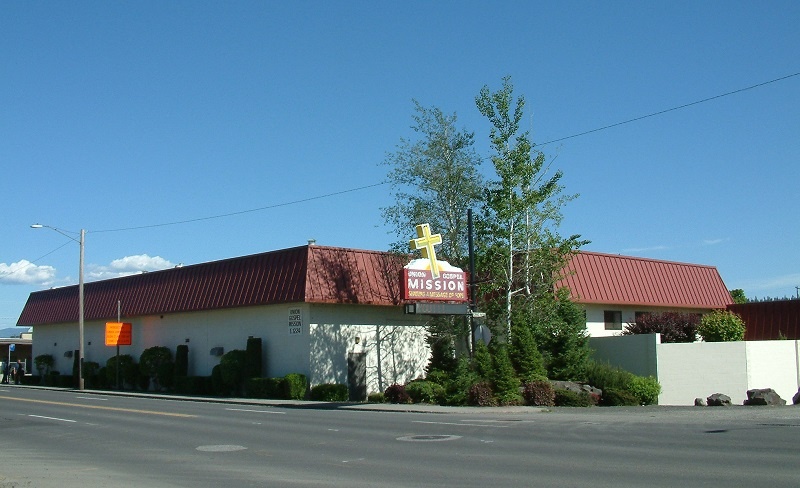 1991
The old Browne and Trent building, which had been on the market but not sold, became a seasonal overflow shelter for women and children as the needs became too great for Anna Ogden Hall to accommodate.
1992
Land for an ideal camp facility was acquired from UGM friend Dick Shanks for far below its market value - in fact, proceeds from the sale of the soon-to-be-demolished Browne and Trent building essentially covered the cost of the camp. Thanks to amazing efforts by volunteers and churches, the impact of the camp, later named Tshimakain Creek Camp and then UGM Camp, grew as its facilities expanded and improved. Now it welcomes about 500 at-risk children every summer without cost to their families.

1994
The riverside park at the Trent location was named for Harry Altmeyer, who had long dreamed of providing a peaceful park setting for homeless people to enjoy rather than bleak city streets where they were often harassed and mistreated. The park is still a place of rest today as a memorial to Altmeyer, who passed away in 1998.
1996
After years of growing need, prayer and legal wrangling, Anna Ogden Hall doubled in size in a massive building expansion project.

1998
Dr. Kathy Tucker offered to partner with UGM to offer veterinary care for homeless people's pets. "A pet is a homeless person's best friend," she said. "I believe the program offers the homeless person the dignity of caring for their pet properly." The vet clinic still provides free and low-cost services three times a month at UGM thanks to volunteer professionals and donations.

2002
Thanks to a large bequest from the late Harry Watts, the Downtown UGM Thrift Store building was purchased and opened under the name Classy Rack. In 2005, a Valley location of Classy Rack opened. After a few years, the stores were renamed UGM Thrift Stores. They process thousands of in-kind donations each year to provide job training as well as financial support for homeless services.
2005
UGM Motors opened, a small operation selling donated cars out of the Valley thrift store location and working on them in God's Garage, a building close to the Trent headquarters. The whole operation moved to a lot in Spokane Valley in 2009 and later acquired the next-door lot to double in size and offer vehicle service.
Vehicle donations, sales, and revenues for UGM ministries have grown astoundingly in a little over a decade. UGM Motors also provided an additional safe and healing environment in which to offer job training and experience to people participating in UGM programs.

2007
To accommodate the growing need for short-term shelter and allow the recovery program the space it needed at Anna Ogden Hall, the Crisis Shelter for Women and Children opened in a 1950s-era motel building on East Sprague, with 16 rooms for guests. The Spokesman-Review reported that the Crisis Shelter "plans to offer 50 emergency beds at the new center."
2012
In response to a request from a group of concerned partners from North Idaho, UGM reached out into Kootenai County. Years of prayer, planning, fundraising and partnership-building culminated in the opening of the Center for Women and Children in Coeur d'Alene in September. The Center offers a full residential recovery program for women and their children coming off the streets, out of jail and out of abusive situations.
2016
The Crisis Shelter was regularly sleeping up to 85 people a night. The facility was overtaxed and falling apart. After several starts and stops in looking for a new building or a place to build one, UGM became aware of the vacant former St. Mark retirement home. Thanks to a swell of community support, the building was purchased, refurbished, and residents were moved in by Christmas.

2017
The former Crisis Shelter building was remodeled and reopened as the Student Impact Center, a hub for UGM Youth Outreach and a place for college students to live and serve in UGM ministries. Community areas were designed to be homelike, and family-style meals around the table create intentional opportunities for young adults to connect with at-risk and homeless youth, build relationships, and share the hope of the gospel.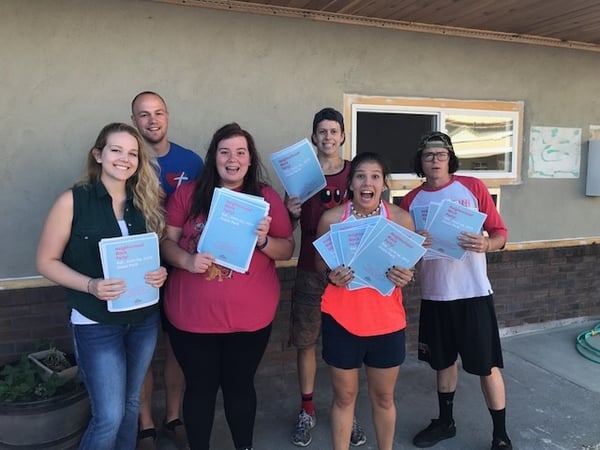 2018 and beyond
Because of an increasing outpouring of generosity in Coeur d'Alene since the Center opened there, the next big expansion may be to open a UGM Thrift Store in North Idaho to provide job training and convert an abundance of donated goods into program funding.
Just like 67 years ago, UGM continues to seek God's leading for our next opportunity to change lives through the gospel.
Dig deeper. Download our free ebook and find your opportunity to change lives.