We asked high-impact volunteer Margene Nobles to discuss her work with the ladies at UGM's Crisis Shelter for Women and Children. She delighted us with her answers.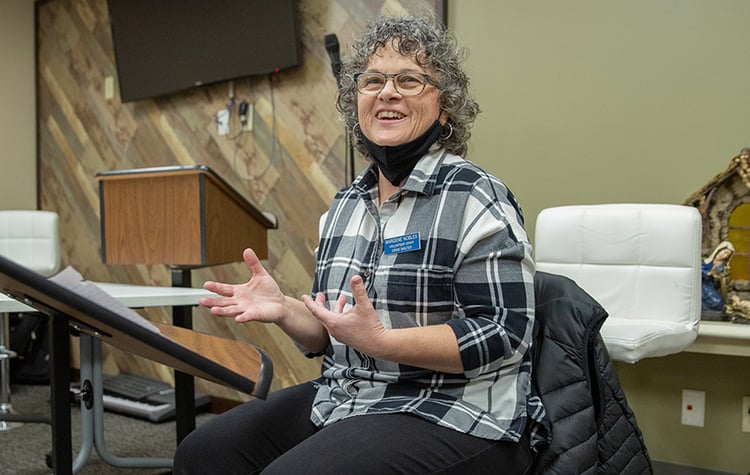 Genevieve, UGM Staff Writer: How long have you been volunteering with UGM?

Margene: I started volunteering in 2016 at the Crisis Shelter when it was on Sprague.
Genevieve: What made you decide to volunteer?
Margene: I knew about UGM, but It was my pastor that encouraged me to check the ministry out deeper. My husband and I went to a volunteer orientation at Anna Ogden Hall and we were sold! We didn't realize what an amazing ministry it was!
I knew I wanted to volunteer at the Crisis Shelter, and my husband thought he might go to UGM Motors, but after our first volunteer time together at the Crisis Shelter, he fell in love with the ladies.
Genevieve: Which specific opportunities have you engaged in?
Margene: As a volunteer, I've answered the phone, picked up meals and helped in the kitchen, done case management, chapel services, organized work days, taken ladies shopping and to church... I was even blessed to go with a young lady for the birth of her son. Currently, I do worship and devotion two days a week at the Crisis Shelter.
My daughter tells me that I've found "my people" and she's right! I always leave feeling full (not empty) because of the courage and strength that is displayed in the lives of the guests, volunteers and staff, and the knowledge that this is a work of God, not me.
Genevieve: What have you learned from the residents at the Shelter?
Margene: I've had the privilege to get to know so many ladies with different stories, and I think the greatest deficit that they have in common is their lack of personal value [not believing they are valuable]. The cause might be from childhood abuse or neglect that has lead to one bad relationship after another, and to drugs and alcohol abuse.
Genevieve: How have you grown as a volunteer and person?
Margene: I've learned to trust God more with the outcome, knowing that by the grace of Jesus he is personally involved and has an investment in these ladies' lives. I have also learned that homelessness is caused by brokenness in a person's life that they have never recovered or healed from.
Genevieve: What are some highlights of your experience at UGM?
Margene: The greatest part of volunteering has always been and will always be when, with God's help, I can convey his love to them and they surrender to his great mercy, forgiveness and Lordship. To witness a broken heart receive forgiveness and believe that the Creator of Heaven and Earth values them no matter what their back story. Oh, what a great God we serve!
Genevieve: Indeed! So, what would you say to someone considering volunteering at UGM?
Margene: There are so many different volunteer opportunities at UGM. I've just tried to help where I could be a blessing or ease a burden. I would encourage anyone interested in volunteering to go to a volunteer orientation. You could have the chance to sow seeds into a great ministry and into lives that are in need of the truth that only Christ can bring.