Kellie Ingram is the UGM Youth Outreach Program Coordinator. In this blog post, we asked her to explain a bit about what she does and why she does it.
How long have you been working at UGM? What drew you to this position?
I started at the Student Impact Center four months ago on December 4th at the all-staff Christmas party! I already had a good feeling about this role, and all the great energy that day affirmed it! I have always enjoyed working with youth and felt called after years of working in community relations for professional sports teams to sit on the other side of the table and work directly for a non-profit. God tested my patience during this job hunt. I was so used to go, go, go that it took me a while to slow down and listen to the roles God was directing me toward. I am so glad I finally paid attention.
How do you think God prepared you for this work? What skills and experience make you a good fit?
Even during the busiest and most stressful times, youth are a source of joy and hope regardless of their circumstances. Working in sports, situations change constantly, and I had to be able to adjust to them on the fly, creatively problem solve and remain positive through chaos (or a losing streak ). These have all translated into how we serve these youth. You never know what they are coming through our doors with, but we can guarantee they'll be met with love and positivity.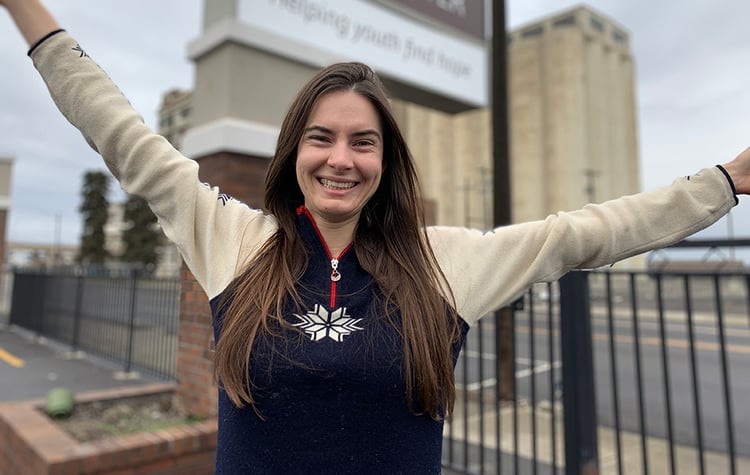 What do your programs look like? What are they designed to do?
During the school year, we open up the Center Monday, Wednesday, and Friday, for IMPACT nights. The nights are run by our amazing college interns and provide a safe and welcoming environment for youth ages 13-19. We serve family dinner, provide homework help, and clothing and hygiene resources. In the summer, we continue IMPACT nights and open during the day for Young Club with crafts in the park. And, of course, there's UGM Camp. We see more than 500 kids during the summer! All our clothing, food and hygiene resources are available during each session.
Who are these kids? Obviously, they are all different and their stories are unique, but generally, why are they coming to the Center?
Our kids are youth either experiencing or have experienced homelessness. We pick them up at home, school, or shelters and drop them back each night. These kids have a variety of different backgrounds, but overall, they need a safe place to be themselves where they aren't worrying about their next meal or who or what they are coming home to. We provide that home-like and family-style environment at the Center. Being consistent in a child's life is crucial. We offer that sense of stability, and in return, we see 15-20 youth each night, most of whom are regulars.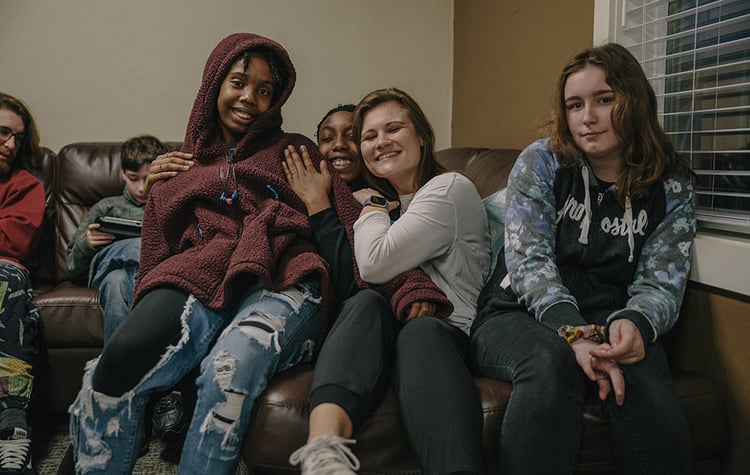 How has God moved recently?
Recently we've been blessed with the opportunity to connect with college career centers and campus ministries to share our internship opportunities. We also are extremely fortunate to have a current intern step forward to be our RA next year and join in on the planning to shape the future of the intern program. We have an amazing group of interns this year and their love for the students radiates every day.
What do you like about ministry at the SIC?
Gosh can I say "everything"!? Some days are more emotionally challenging than others, and right now during the pandemic, I'm truly missing our kids and just want to have a big family dinner again. The work we do is so fulfilling and the kids just crave the one-on-one quality time they get. Watching them blossom with us, where they may not be able to at home or school, is just the best. They are amazing kids!
Give us an example of the changes you are seeing in kids' lives.
Two of our regulars in particular: One has been coming for a couple years now, he's had a rough past, got kicked out of school, and had a lot of aggression. His transformation is night and day. He now attends church regularly with one of our interns, helps out cooking dinner, and keeps an eye out on the younger kids making sure they are following the rules and being safe. The second, she is easily our youngest, but her presence is very much noticed! She has become quite attached to a couple of our interns and uses co-op points earned from helping with dinner dishes and other activities to "buy" items from our clothing closet for them! The smile on her face when she gives them the cute shirt they like is priceless.
What are you up to? Updates? Needs? Ways the community can partner with you?
We are always looking for volunteers either at the Student Impact Center or in our Juvenile Detention Bible study groups! We are also currently hiring for UGM summer camp positions and accepting applications for both our summer inner-city internship session and our school-year resident internship, all positions are open to college students and those who have recently graduated! Summer roles run from June through August, and school-year positions from September through mid-June. Housing, food and utilities are included, which you can't beat as a college student! These are fantastic opportunities to serve and mentor youth in Spokane!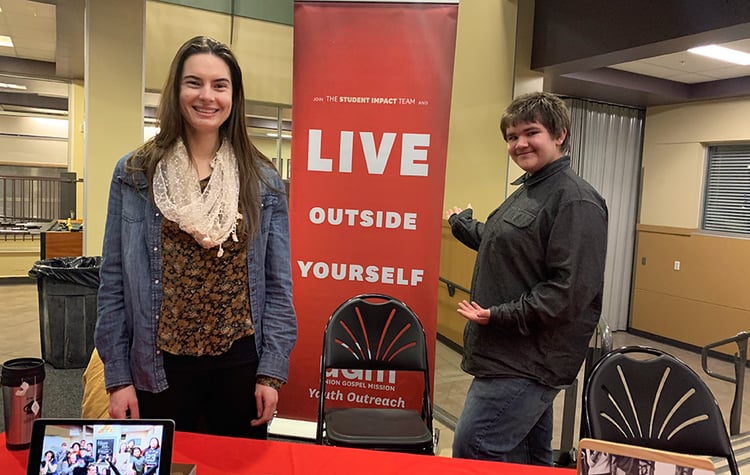 Tell us a little bit about yourself.
I'm originally from western Washington but went to school in Montana at Carroll College and have lived in Idaho and Iowa, as well. My husband and I have been married almost a year and have a three-year-old dog, Tippet, and a four-year-old cat, Calvin, who is as mischievous as his namesake. I love anything outdoors: skiing, hiking, fly fishing, trail running, backpacking... which makes Spokane an awesome place to be! I also enjoy gardening and then baking, canning and cooking all the amazing fresh produce!
You mentioned that you worked in sports. Tell us a bit more about your love of sports.
I've been running since forever and ran cross country in high school and college. Now it's just to stay relaxed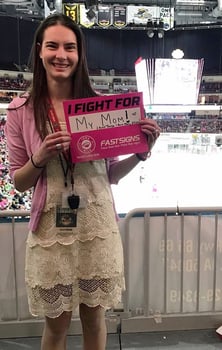 and enjoy trails! Before coming to UGM, I worked in community relations for professional sports teams in both minor league baseball with affiliates of the KC Royals and Seattle Mariners, and hockey, with the AHL affiliate of the Minnesota Wild. I got to spend lots of time with the athletes as the major league clubs really value community involvement in player development. We'd visit children's hospitals, participate in challenger league games, pack meals for food banks, anything community focused! It was pretty special to see athletes at that level as just average guys wanting to make a difference. So often these players are viewed only for their talent on the field, and I got the privilege of helping them launch community programs in areas outside of sports where they were passionate. For example, we had one player launch an anti-bullying program in schools, and another, a heart health and CPR awareness program in honor of one of his friends. I'm a huge sports fan, so meeting and working on a regular basis with childhood heroes like Dan Wilson was pretty awesome, as well.
Feeling inspired? Like Kellie said, we need more Youth Outreach volunteers! Click below to learn more.