In 2020 alone, volunteers saved UGM nearly $2.2M. It is no exaggeration to say that we could not realistically function without our fleet of volunteers who
give so generously of their time.
Pat Holmstead was a dedicated career woman until her retirement in 2013. Still uninterested in "just sitting around," she began pursuing ways to give back to the community.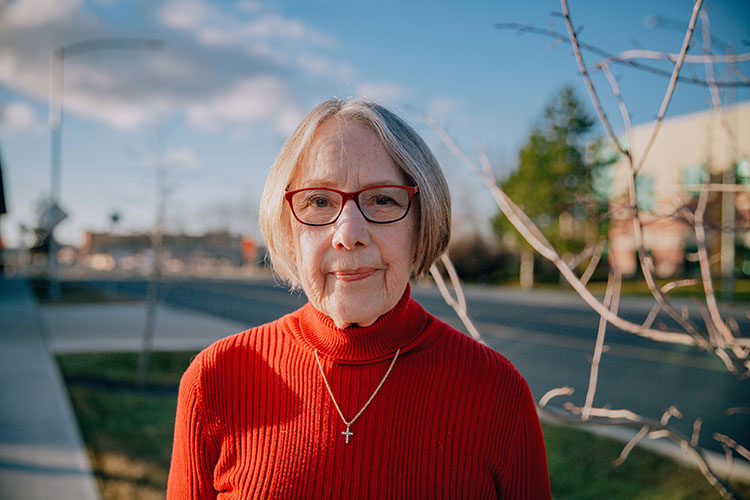 "Starting on the front line was a good thing for me."
Pat joined UGM and decided to volunteer on the front lines when the Crisis Shelter was still on E Sprague. She had previously volunteered at another local women's shelter and knew she wanted to be able to give women more than a place to sleep at night. She says, "[Working at a warming shelter] is just keeping them alive, and there's no life change."
During her time at the UGM Crisis Shelter, Pat saw the life-changing effect of a whole-person approach. "I don't think I would have had the purpose of the Mission if I hadn't started there. I think there's a lot of misunderstanding, if people haven't been here. I think the older people have this idea that it's like Skid Row. There's a lot of blame, but there needs to be an awareness that people have to learn skills if they weren't modeled in the home. If you have parents who are addicted, or never in the home, or fighting all the time, or hitting you, you're not learning how to balance your checkbook. It's, 'What am I going to eat today that I can scrounge out of the refrigerator?'"
"What UGM offers is really comprehensive."
Pat enjoyed being of service at the Shelter so much, that even a major hip surgery didn't take her out of commission. She did, however, move from the front lines to the administrative side. Over the past eight years, this servant-hearted woman has served alongside our Resource Coordinators, scheduling donation pickups; answered phones and served the public at the front desk; worked in finance with the Donations Processing team; served as a Mentor; partnered with UGM Auxiliary; and offered invaluable support services to our Ministry Advancement team.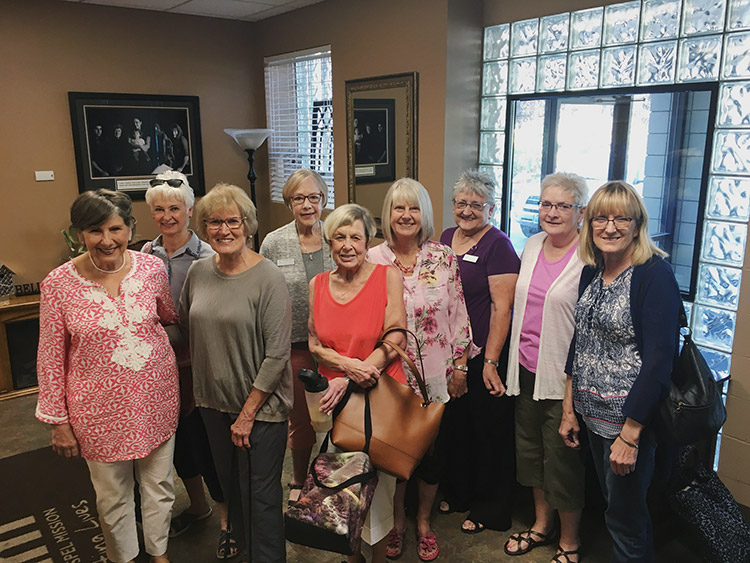 Gwen Schwartz, UGM Director of Ministry Advancement and Legacy Giving, has high praise for her "Super Volunteer" Pat. "She's more than a wonderful volunteer, she's an incredible person. She's family."
And the feeling is mutual.
"I think the Lord has blessed the Mission and the board of directors. Such upright, wonderful people."
"When you're a volunteer and you work in administration, you're like a fly on the wall and you hear everything. Phil is there, and everyone is talking about work. What I have learned is they are what they claim to be. That really is important to me. And that's not true of every organization. Sometimes the public face is different than the private action. I've had a lot of exposure to a lot of different areas at UGM, and it has consistently convinced me that this organization is spectacularly wonderful and deserving of all the support that is given to it. It has great credibility. Another thing that is super important is that I have felt very physically protected here. Every single time when I go to my car, somebody is there to see that I get there safely. I think that says worlds. Phil has done it if he happens to be there when I go out. It shows appreciation for what volunteers do, that you're not just taken for granted.
"It wouldn't be possible to accomplish all that is accomplished without volunteers."
Placing volunteers in areas where they'll thrive is important to UGM staff. Volunteer Coordinators, Greg Barclay, Ranell Bond and Karen Herford, take the job seriously. Pat has felt known and listened to every time she's needed a change or been moved. "There are just so many different places where you can work and we all have different abilities. They are good about trying to fit you where your skills are. And they're always open to accommodating what you want."
Pat developed a lot of useful skills in her career. "I was the Director of Medical Records at a hospital, then I went back to school and got a Master's degree in health services administration. I worked at Kootenai Medical Center before getting a job at Inland NW Health Services as the Director of Quality and Corporate Compliance. The computer skills, especially, have been a good resource that is unique for my generation."
She's doing a lot of work on computers for Gwen. "I'm working with the larger donors, or those that have made a commitment for estate support, and that's been very interesting. I do some calling of the donors, and mailings and thank you notes, and work in the Donor Perfect software, updating contacts." She says volunteers do a lot of the foundational work that supports the efforts of the Advancement Team.
"It's so wonderful to come in and feel like you're doing something that's going to benefit somebody, even if it's indirectly."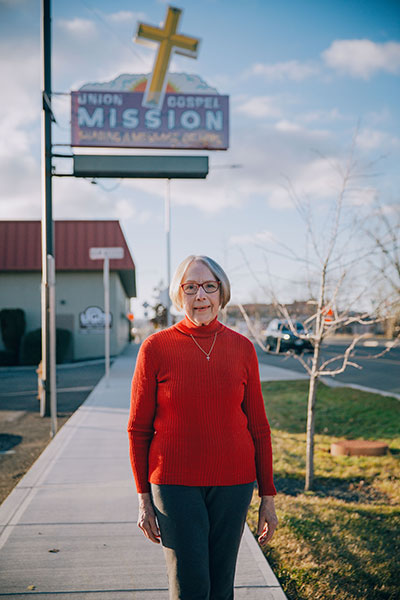 Pat says financially donating is equally important to her. "It's like supporting missionaries, I look at it in the same way. If you're paying to send a missionary, you're not doing the work yourself, but the missionaries certainly couldn't do it without you. So, I'm a giver now, and I'm going to be a giver after I'm gone."
Pat continues to touch countless lives through her dedicated service to Union Gospel Mission. Spokane and the Inland Northwest is greatly influenced by people like her - quiet, servant-hearted individuals who give daily toward the cause of the gospel. People in crisis are finding hope because people like her keep caring. "I'm hoping I can keep doing it for many more years, if I'm healthy enough. I sure enjoy it."
"It's serving the Lord. It's building the Lord's kingdom. It's the most important thing you can do." - UGM High Impact Volunteer Pat Holmstead Click to tweet!