"I pray that you, being rooted and established in love, may have power, together with all the Lord's holy people, to grasp how wide and long and high and deep is the love of Christ, and to know this love that surpasses knowledge—that you may be filled to the measure of all the fullness of God." – Ephesians 3:17-19

Getting "out of our comfort zone" is a chance to be challenged and grow, to do things differently in order to make progress. One of the best examples we've seen of that is Rooted.
A 10-week Christian experiential process, Rooted brings church members together in small groups to learn and grow in godliness together. Many different groups from local churches have partnered with UGM as part of participating in Rooted.
Rooted first came to Spokane in 2014 at North Church, where Pastor Mike Meade and his leadership team were looking for a way to break free from a stagnant routine of "programs" and find a more genuine way to connect church members in their everyday community life in Christ.
How? By getting uncomfortable together.
Vulnerability
Rooted is built around small groups going through learning experiences together, including studying the Bible, prayer, communion, service, and giving. Toward the end, they share their stories with one another – the unvarnished versions.
Several residents of UGM shelters, particularly Women's Recovery at Anna Ogden Hall, have gone through Rooted at Life Center church. "Getting real" with their groups was a big step for them – as it would be for most of us. Knowing that was a big part of Rooted, Emily (Phase 3) deliberately chose to join a group and get uncomfortable in order to build the healthy relationships she needs.
"Church is about this relationship with God and relationship with people. We're made for relationship. And I so don't like that. I don't like getting close with people. So I did it to get out of my comfort zone."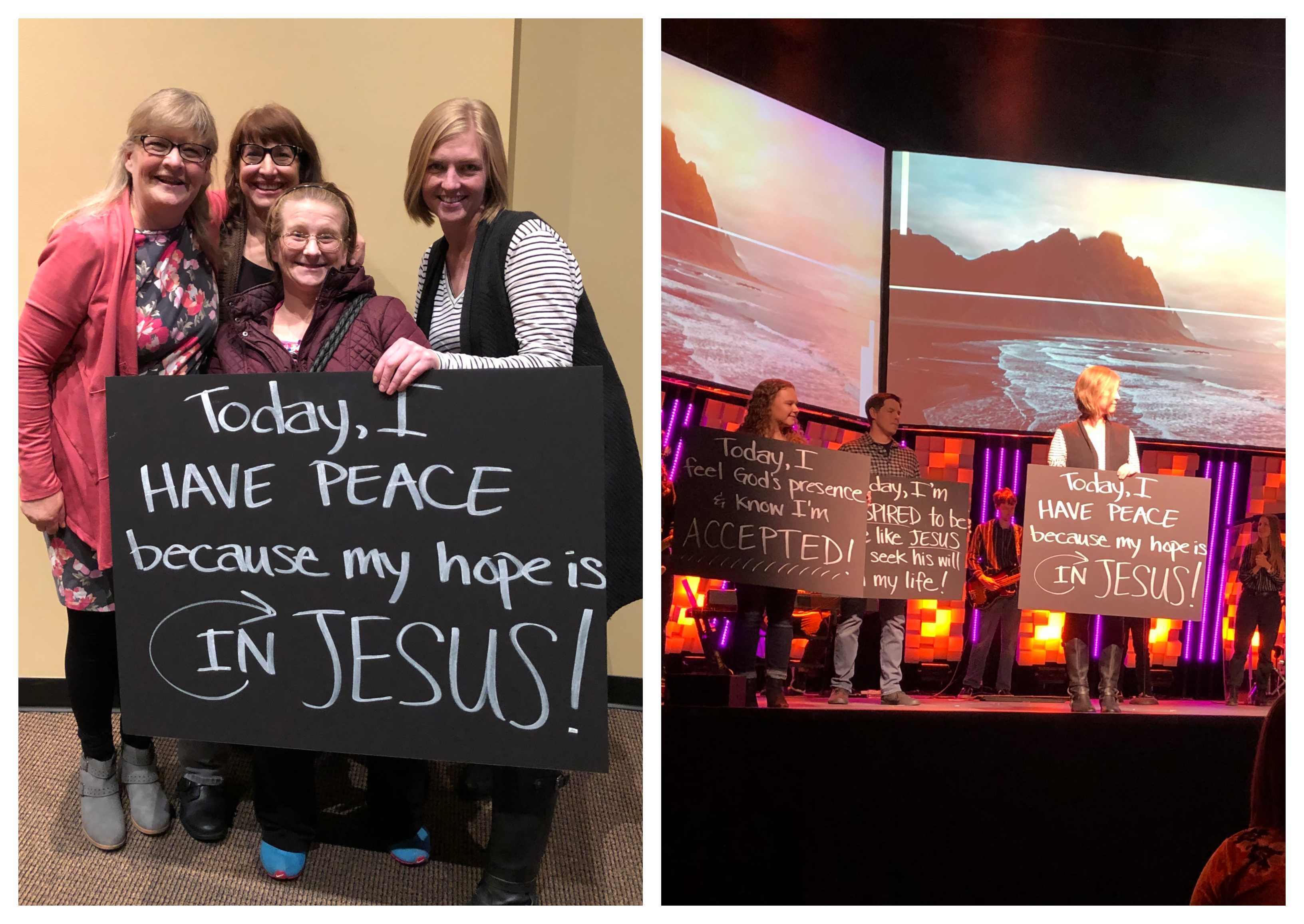 What Emily and her fellow residents found by taking that step was that they weren't alone. On the contrary, the struggles, temptations and hurts that fed into their addictions are common, "even" among churchgoing people. Seeing other people in their Rooted groups respond to those things with faith in Jesus was an encouragement as well as a leveler.
"If other people who aren't in addiction have problems or traumas and they still see God's hand, maybe I could too," says Barb, who is in Phase 3 at Anna Ogden Hall.
Service
Feeling uncomfortable is purposefully prompted by the curriculum, says Colin Barker, adult discipleship pastor at North Church and overseer of their Rooted groups: "Put people in uncomfortable situations and make them consider different aspects of the Gospel and what God calls them to." That's one of the purposes of the "serve experience" that Rooted groups do during Week 7.
"The Rooted material in general builds a theological picture around the idea of poverty. What does poverty look like? It could be spiritual, it could be relational, it certainly could be financial."
Understanding poverty means connecting face to face with people experiencing it – that's why many groups do their service experience by serving a meal at UGM, Colin says. "Showing the homeless environment and people living in that lifestyle is probably one of the easier ways for someone to relate to the idea of poverty. Someone walks into somewhere like UGM and realizes, 'I'm a back injury, a failed L&I claim and two months of rent away, and I am that person living at UGM.' "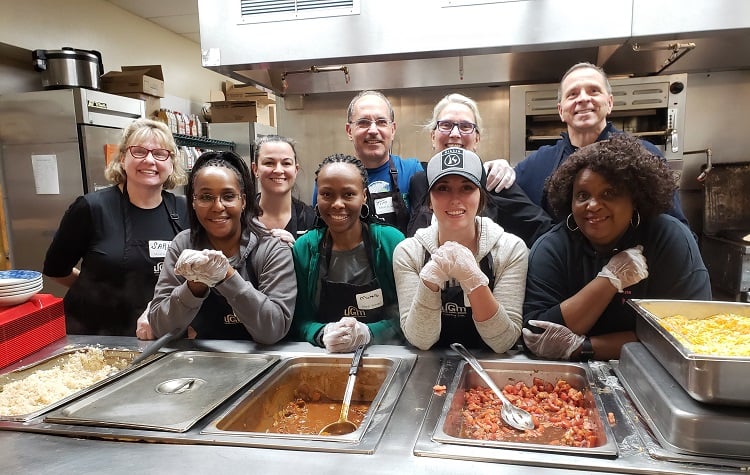 But as he said before, financial poverty is just a small piece of the picture. Interacting with residents at UGM, sometimes Rooted members realize "John Smith over here is homeless and has not a penny to his name … but maybe John has 10 really great friends and I don't have any friendship, and so I have this area of friendship poverty in my life."
Ultimately, awareness of our spiritual poverty is what makes us understand our need for Christ, and Colin says that happens during the serve experience. He's seen people come to the realization that " 'I'm in this massive spiritual poverty in which I have not come to some conclusion about who is Lord of my life' – and we see a confession of faith in Jesus in the moments leaving a homeless shelter."
While the UGM residents served at other places with their Rooted groups, they also gained from going through the service experience together. Jessica served with Blessings Under the Bridge, a group that serves free meals downtown.
"I used to be homeless downtown and actually used that service before." Jessica says. Serving meals, she saw people she knew in those days, and she continues to pray for the people who are still stuck in hopelessness.
"It really opened up my eyes – I really don't want to be back at that place. I don't want to be back not knowing what to do, just being lonely and afraid and out there alone in the cold."
Practice
One reason North Church and other churches have made Rooted their "onboarding" experience for people to get involved is that it is helpful to people at all levels of Christian maturity, from unbelievers to church leadership. That's because the experiences are designed to bring knowledge of God's Word into literal "practice" – learning by doing. When the group is learning about prayer, they pray together; when they're learning about service, they serve together; when learning about giving, they give together; you get the idea.
For instance, Amanda at Anna Ogden Hall grew up thinking she could get in trouble with God if she prayed "wrong" – but doing it together with her group showed her how she can come to him as a loving Father.
"I actually learned how to pray during Rooted," Amanda says. "Praying is actually just how you and I are talking. We can talk to God just like that. And it took a lot of weight off my shoulders."
Journaling is also something participants practice in Rooted. Emily found it helpful to write out her prayers: "That makes me think more. I'm not distracted while I'm writing. And I really have to think about, What am I saying? What am I asking? What am I praising him for? What changes do I want in my life? Instead of just in my head, being specific. I think that is what leads to a more personal relationship."
Relationship
"The aim of our charge is love that issues from a pure heart and a good conscience and a sincere faith." – I Timothy 1:5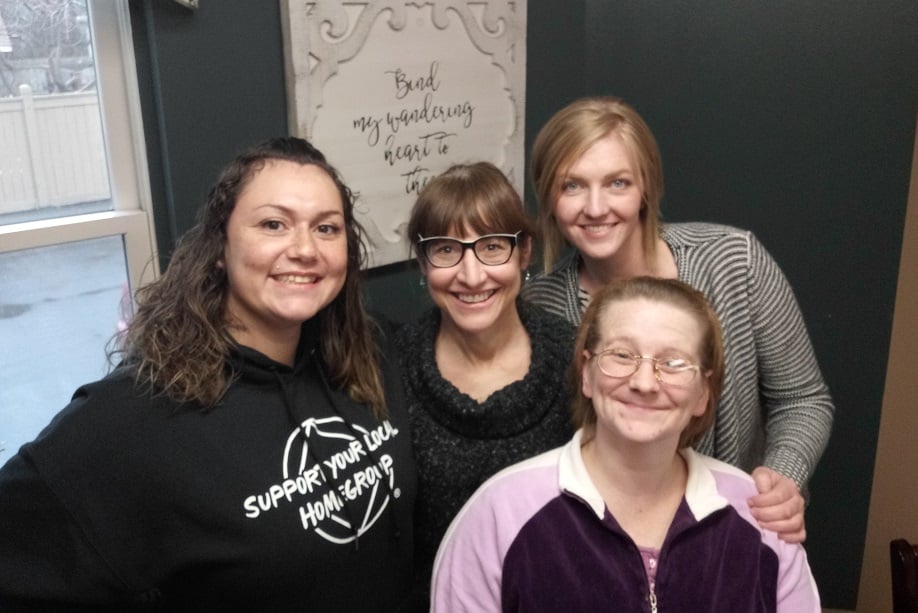 Jessica, Barb, Emily and Amanda went through Rooted at Life Center.
What's the goal of all this discomfort? Loving God and loving one another. That's how Jesus summed up the whole of God's commands for how we are to live, and that's the result that churches and individuals have seen from committing to the Rooted process.
For Jessica, building trust and relationships with her small group was a huge step in her return to the church as a whole after the consequences of her addiction: "It's a little difficult to go into a church and be able to openly say, 'Hey, I've gone to prison, I've done some horrific stuff.' … Feeling accepted [in Rooted] no matter what I've done, with those types of people that I thought I would never feel accepted with."
The service experience helped break down barriers as well: "When you go somewhere that you haven't been, and you really don't know what you're doing, and you go together as a group, I think you form bonds over that," Emily says.
Church partnership is absolutely essential for UGM to be effective. In fact, UGM is a partnership of, rather than a substitute for, the Body of Christ in congregations across our community. And Rooted has brought hundreds of God's people together – rich and poor, young and old, homeless and housed – to obey the commands of Christ to love, serve, and grow in discipleship together.
Pastor Colin says the Rooted connections with UGM have changed lives at his church and others: "The Mission has served the local church in such a way as for people to identify what poverty is and then get them on mission serving in their own lives."
We're thankful for the churches and individuals who are willing to get uncomfortable to share the wide, long, high and deep love of Christ.
See for yourself! If you'd like to know more about how your church can get connected with UGM, click here.