Patty's a self-described alcoholic. But sobriety isn't what her recovery is all about.
It's about finding a new way after long-held habits and ways of thinking left her broken and paralyzed by anxiety.
It's about finding her confidence and her true voice in Christ.
Alone
"Christ came and preached peace to you who were far away from God." – Ephesians 2:17
Patty never expected to be homeless.
She was holding down a job and helping care for her aging parents. But she'd been in denial a long time about her struggle with depression and alcoholism. Even with a couple of DUIs on her record, she didn't think she had a serious problem.
In 2014, after her third DUI, she tried to get her life on track. She got sober and quit smoking after many years. She moved nearer to her parents. She had a job that involved a lot of driving – until she was caught driving with a suspended license and lost her job.
Losing her job meant losing her apartment. Patty's dad had died; her mom was in a care facility. She had two sisters, but they weren't close. "I have a tendency to alienate people; when you're in your addiction you have a tendency to do that. They've been down this road with me before."
So even though she was sober, Patty was alone. "I literally had nowhere to go."
Anxious
"I call to You when my heart is faint; Lead me to the rock that is higher than I." - Psalm 61:2
An acquaintance had heard about UGM on the radio and brought Patty to check out Anna Ogden Hall. She was too scattered to really understand what it offered, but she didn't have many options. She stayed at the Crisis Shelter while she waited to enter the program.
"That was really traumatic for me because I've never been homeless. I've never been in that situation, and it caused me huge amounts of anxiety. … I was really a mess."
Patty was used to being on her own and had never lived in a community setting before. Just the idea of being homeless and staying in a shelter was so stressful that she took a step backward. Her main motivation to quit drinking had been because it triggered her urge to smoke. But as she waited for the program she took up cigarettes again, even though she was already suffering early stages of COPD.
"When you're in that anxiety level, you're not thinking straight. You're not thinking clearly. And I had so much else on my mind at the time."
Patty worried about her mom. She worried that she might not be able to handle the program and feared she would get "kicked out" and end up on the streets. She had always been an outgoing person, but the weight of the anxiety shrank her down into herself and silenced her.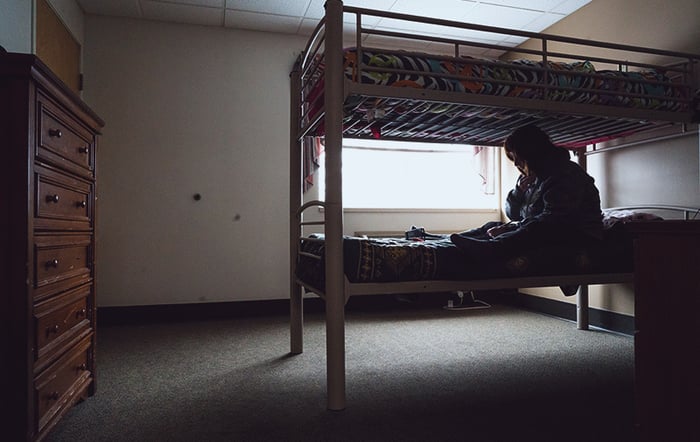 Open
"The word of God is living and active, sharper than any two-edged sword…discerning the thoughts and intentions of the heart." – Hebrews 4:12
Patty was curious about the LIFE Recovery Program because it was faith-based. She had never before had any interest in religion and had only been to church occasionally with her mom and grandma.
"I didn't have that, so I was apprehensive and thought, 'Maybe that's what I need. Maybe that's what I've been missing. … I've been through rehab and done things, and it's not worked.'"
Because it was so new, even learning about the Gospel had the potential to increase her anxiety. "I knew nothing" about the Bible, she says, not even the names of the books. "There's a little embarrassment or shame around that too."
But Patty's beginning Bible study class was taught by Sonny Westbrook. "He was just so gracious and so kind and so patient. And I'm like, 'If this is who God is…'" She wanted to know more.
Patty gratefully soaked up everything the program would teach her about God. She appreciated the patience of Sonny, the other staff and volunteers when she struggled to understand the Bible. She found "go-to" verses so she could remember truth when she felt her anxiety rising. And she learned she never, ever had to be alone.
"I always have [God]. He'll always be there for me. I'll always have Him. When I came in, I felt very alone."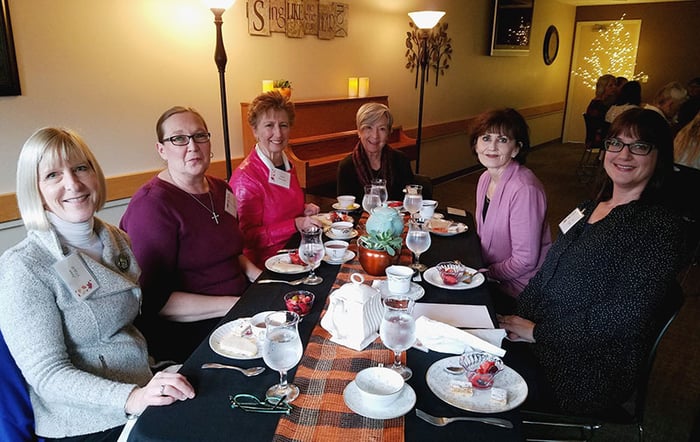 Honest
"Be anxious for nothing, but in everything by prayer and supplication with thanksgiving let your requests be made known to God." - Philippians 4:6
Anxiety had changed Patty's whole personality. It "caused me to be introverted, not to speak up or ask if I don't know things."
She's come a long way since then, but it wasn't overnight. Patty had to find and practice new ways to overcome the anxiety, from mindfulness and breathing exercises to spiritual truth from her "Armor of God" Bible study.
She couldn't succeed by staying in a lone-wolf mindset. Instead, she's found acceptance and camaraderie both inside and outside UGM. Along with some of her sisters in recovery, she's gotten plugged in at Life Center church. And she's formed a transition team that includes a mentor, spiritual adviser and others who will help her continue to grow after leaving Anna Ogden Hall.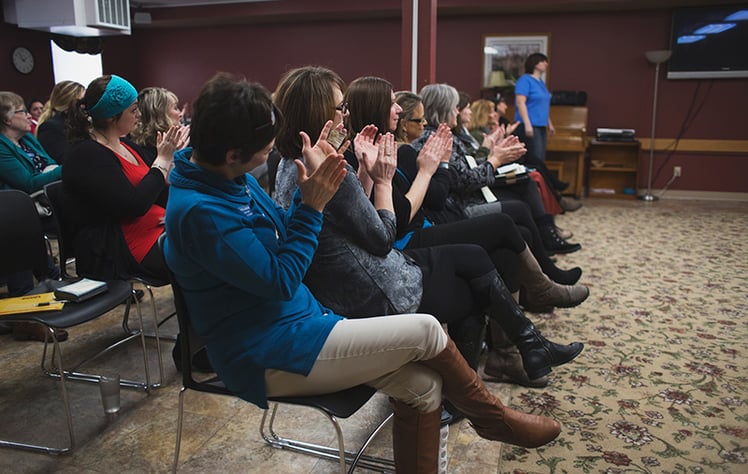 Even agreeing to be interviewed for this article, fears and all, was part of her practicing a new way. "In the past, I would have been nervous and not said anything and just tried to do it. ... That's a big change for me. I'm honest with people."
That was also a big part of Patty's success in her Business Practicum at Riverview Retirement Community: "I wasn't afraid to ask if I needed help. And that's a big thing. That's what we're taught here, too, just to self-evaluate, use your voice."
Ongoing
"If all these things are in you and are growing, they will help you to be useful and productive in your knowledge of our Lord Jesus Christ." - 2 Peter 1:8
Patty knows that as she leaves the program, she's got more to do. But it's an exciting road rather than a scary one. "I'd like to get more involved with my church and serve there. And give back … I already feel like I give back when there's new girls coming into the house. I remember what it felt like when I first came. … Just to take that time to welcome them or answer questions or share what successes that you've had."
And even though she's still looking for a job, she knows who's in control of her transition. "God's got my back. He's going to open the right doors for me. I have seen him work that. I've seen him do that so many times since I've been here."
She would have loved to work at Riverview, but there aren't any openings right now. "That's OK. There's a reason for that. He's going to open the doors for something."
"And the peace of God, which transcends all understanding, will guard your hearts and your minds in Christ Jesus. Finally, brothers, whatever is true, whatever is noble, whatever is right, whatever is pure, whatever is lovely, whatever is admirable--if anything is excellent or praiseworthy--think about such things." – Philippians 4:7
One way to combat anxiety is to focus our minds on God's many blessings, tangible and intangible. Download our simple worksheet to help put your mind on what is true, noble, right, pure, lovely, and admirable!