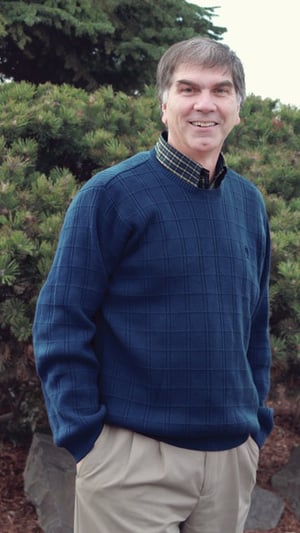 I'm amazed at what can change in a person's life in a little over a year's time when he or she aggressively pursues recovery. Consider the cover story: Steve was angry, jobless, depressed and drunk almost every day. He and his wife were separated and about to be homeless.
Today, Steve is sober and employed at a job he likes. He and his wife are in marriage counseling and searching for an apartment together. He's pursuing a relationship with God and excited about giving back. And, he's taking risks – telling his story is something he never would have done a year ago.
This kind of transformation excites me. Steve is not the man he was. Thanks to you, he has had free access to food, shelter, biblical counseling, education, medical care and much more – all within the context of a caring community. He has had the time and space to get his life back on track, and he has done the hard work required to do so.
What I want to say to Steve – and to you – is that the hard work isn't over. While 2014 holds great promise, it will also hold disappointment and frustration. There's no way around it. Steve must continue to aggressively pursue his recovery. He will be tempted to avoid pain, to hide, to withdraw, to pretend he doesn't need help, to blame someone else for his problems or even to drink his problems away. It's imperative that he surround himself with a support team.
I have seen it time and time again, men and women who try to "go it alone" relapse. They walk away from a program where they've been surrounded by people who are interested in their lives, people willing to hold them accountable and ask the tough questions, and if they don't pull together a similar support system outside UGM, they flounder.
Sharon Hersh, author of The Last Addiction, emphasizes this same point: "Healing from addiction is all about relationships – it's about discovering how inextricably linked we are to each other and how much our own willingness to tell the truth helps others to do the same."
One way we encourage our graduates to find this support is through the church. When they transition back into the community, we want to know they are part of a loving body of believers who will walk alongside them on their journey of ongoing recovery. Is that something your church is doing now or interested in doing in the future? We'd love to talk with you, share resources and encourage your work.
Sharon Hersh refers to "our own willingness to tell the truth," which raises a great point. In order to be a safe place for people in recovery, we must be willing to admit our own struggles and to acknowledge our own temptation to withdraw or pretend we've got it all together.
James 5:16 puts it like this: "Therefore confess your sins to each other and pray for each other so that you may be healed."
Confession is the opposite of denial, and it's not just healthy for recovering addicts. It's what God calls all of us to do.
Want to know more? Take a deeper dive into what it means to love the poor. Click on the link below.