"My number one goal was to find a job."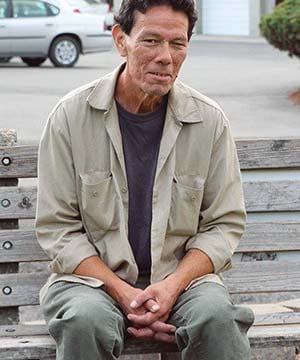 Cecil, 54, spent the early part of his working years in a lumber mill but lost his job when the logging industry declined. After a period of unemployment, he decided to retrain as a diesel mechanic, only to discover that most of the jobs in that field required a commercial driver's license. Cecil is blind in his left eye and cannot qualify for a CDL.
He lived with friends for a while, but without a job, he eventually ended up homeless.
"I was living wherever I could find a dry place to sleep." He came into the Men's Shelter for coffee and donuts, then shaved, brushed his teeth and "got myself presentable to go out and look for a job." When he got an interview, UGM's day room manager, Ron Molina, helped him pick a nice dress shirt from the clothing room.
After nine months of searching, the good news is Cecil got a job as a baker. He is now living at the Mission, saving money to move into his own place.
Asked what he wished people understood about homelessness, Cecil said, "Being homeless was not our choice. It doesn't mean we're on drugs or drinking. (Cecil has been sober for 14 years.) Being homeless just means we've hit some hard times. We've hit a bump in the road, and by the grace of God, we will get over this bump, and we'll continue living our lives. Me, personally, that's what I want – to be a productive member of society again. I enjoy having a job. I enjoy the paychecks. I want my own place, and the Mission has helped me with that.
"They gave me a roof over my head. They gave me food. I probably would have starved or froze to death if it wasn't for this place."