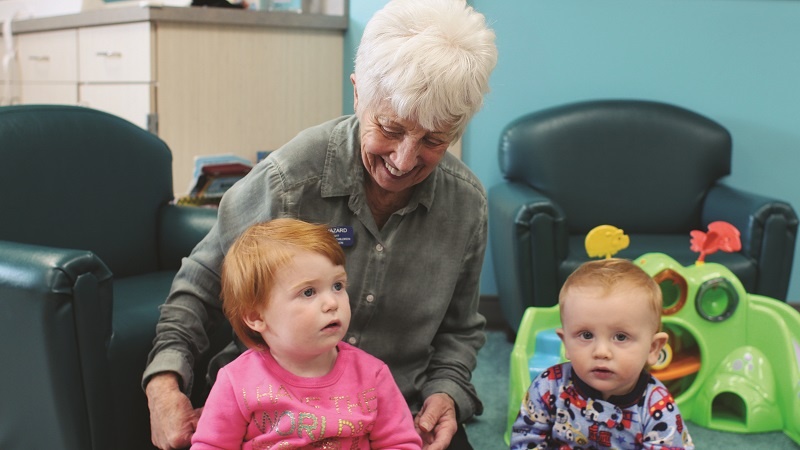 Ronnie Hazard was retired, widowed and living alone in a big house in Leavenworth when she asked God how she could serve him best. He put it on her heart to serve at a women's shelter, and the nearest one she knew about was the Union Gospel Mission in Spokane. She sold her house and moved to her new home in Coeur d'Alene in a span of three months.
"I did none of this. It was all God's doing," she says.
Ronnie had expected to commute to Spokane to volunteer at UGM. When she heard that UGM had a Center for Women and Children in Coeur d'Alene, it further confirmed God's leading.
Ronnie helps to care for the little ones in Robin's Nest, the children's program at the Center coordinated by Robin Olson. Many of the children there have experienced trauma and neglect in their short lives, and all of them need to know they are loved and cherished.
Enter Ronnie. Telling the kids about God's love is Ronnie's favorite thing: "giving them love and telling them about the Lord, and how much Jesus loves them." The playing, cuddling, and reading times she has with the children all center on that truth.
Many of the children have behavioral issues because of what they've been through, she says, but "The child that is the most difficult to love is the one that needs it the most."
Anybody with a heart to serve should volunteer, Ronnie says. "I just love my job. It's a great way to serve God. The volunteers are treated with so much love… treated with a lot of respect, treated like one of the staff. It's a learning experience, too. It's a great way to share God's grace and God's love."
Volunteers like Ronnie make UGM Women's Recovery possible. If you'd like to give your time to help children and their moms in recovery, sign up for a volunteer orientation.