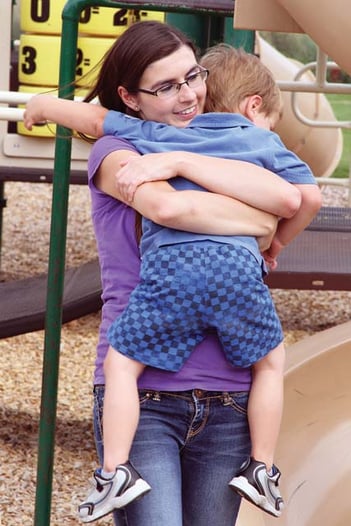 While the Union Gospel Mission has been providing childcare since it opened Anna Ogden Hall back in 1971, the majority of energy and resources have been directed at healing and recovery for the moms in our shelters, believing that giving a child a healthy parent would be the best gift we could give. In recent years, however, the extent of emotional damage in the children coming into our shelters has come to the forefront, and leadership in Women's Recovery have been searching for ways to meet that need.
"The moms and kids whom we serve have deep wounds and have experienced great loss and trauma,"
said Robin Olson, children's coordinator at the Center for Women & Children. "We have observed and tried supporting exhausted, overwhelmed moms. We've also worked with traumatized, angry children."
Heritage Health, a faithful partner to the Center's medical clinic from day one, is now offering the specialized counseling services of Natalie Keese-Hamm. Natalie works both with the children directly and with the moms in terms of their parenting.
As a result of this alliance, the Center hopes to see
Smoother transitions for women who are reunited with their children.
Moms learning and applying what it means to be a good parent while clean and sober.
Children receiving the care they need to deal with the trauma and deep wounds they've experienced.
Dr. Abate, Heritage Health's medical director, said Heritage is excited about the partnership, as well. "Heritage Health believes in an integrated approach to health care, addressing not only physical needs but also psychosocial issues that may contribute challenges to living a healthy lifestyle. UGM clients and their families represent a good example of a population where we can address physical, mental, nutritional, and social aspects of healthcare to obtain the best outcomes."