I remember the day very clearly. I was a junior at Northwest Nazarene University, walking across campus…I can even tell you the spot on campus where I stood when I just said, "I'm through. I surrender to you, Lord," and I just dropped everything. That's the point at which my whole life changed – my focus, my career trajectory, my plans for the future. That's when Christ became real for me, and I did "the 180," so to speak. I set aside the things I was doing that I knew were wrong and not pleasing to God, and I decided I wanted to please Him more than anything else.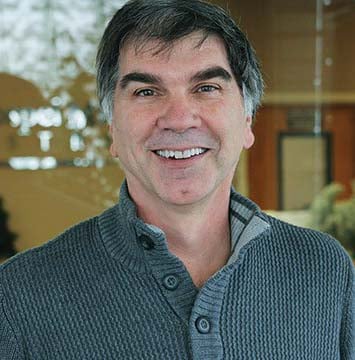 God was not new to me. I grew up in a loving, caring, Christian home. My mom was a prayer warrior. My dad modeled righteousness and hard work. I grew up in the church. We came down to the old Mission as a family and conducted chapel services. But it was at that moment during my junior year of college when my faith became my own. It was no longer my parents' faith or the religion of my childhood. My decisions, my path, began to align with my heart, and my heart was committed to following Christ.
I have often heard the counselors in the UGM recovery programs refer to their work as "re-parenting." The parallels are clear. Christian parents strive to raise their children and give them the tools they need to move on in life. They lay a foundation. They love and forgive. They attempt to model God-dependence, a healthy marriage and conflict resolution. They set standards and teach discipline. UGM recovery programs have a similar structure. Classes and relationships are modeled on Christ-likeness.
But here's the thing. We cannot fix anyone. Life transformation is between the person and God. Only God can change a heart, and only the individual can decide whether or not he/she wants to surrender to His great plan for their lives.
UGM provides broken people with a time out, an opportunity to start over, to develop new ways of thinking and acting, new disciplines, and we trust that, with the Lord's strength, those new habits and tools will serve them well when they leave.
At the same time, we are encouraging them and helping them to build a support group outside of our shelters. We were not created to do life alone, and here at UGM, we have seen time and time again that the recovery graduates who succeed long-term are those who have built connections within the church and with other healthy, caring individuals.
Because of you, UGM is able to provide a foundation for people who often did not receive the love and structure they needed as children. When they leave, they build on that foundation, but they desperately need people to come alongside them as they continue in ongoing recovery. Mentors and welcoming churches are key. If you'd like to know more, I encourage you to call Mike Doggett, our Aftercare Manager at 509.535.8510, ext. 165.
Together, we give people the opportunity for a whole new life. Thank you!