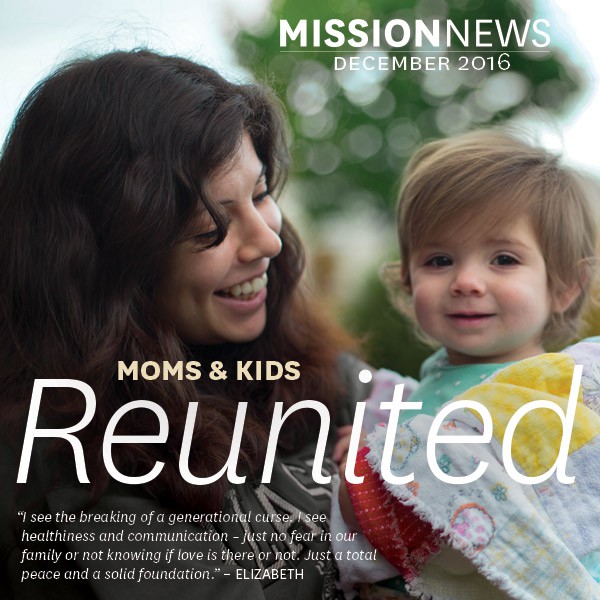 One of the most beautiful extensions of personal healing and recovery is the reunification and restoration of families. Moms get their children back. Children get their moms back.
Chaos
Addiction creates chaos and instability and affects a mother's ability to parent. Addicts live in survival mode, often oblivious to their children's needs and ill-equipped to meet those needs. Children end up neglected, abused or separated from their families of origin.
Elizabeth, a resident in UGM Recovery, explained the dilemma she experienced trying to be a mom to her daughter, Celine, while in her addiction:
"I didn't know how to provide for myself or have emotional regulation for myself whatsoever, and so, all the heavy emotional demands of motherhood were really making an impact and just taking me down. I felt really exhausted and I was just trying not to sink. I didn't know how not to depend on drugs for my stability…I was trying to juggle taking care of [my daughter] and being in my addiction."
Celine was taken from Elizabeth very shortly after birth. Elizabeth wanted her baby back, and she knew the only hope of reuniting and being a good mom was recovery.
Jessie Morris found herself in a similar position when she lost her son, Caleb.
Recognizing Jessie's inability to provide a quality home life while stuck in a 23-year addiction, Jessie's mom stepped in and took Caleb to live with her.
Devastated, Jessie came to UGM – her eighth attempt at recovery. This time, she says she's actually dealing with the core issues that kept her in addiction, and addressing those root problems is translating into becoming a better mom for Caleb.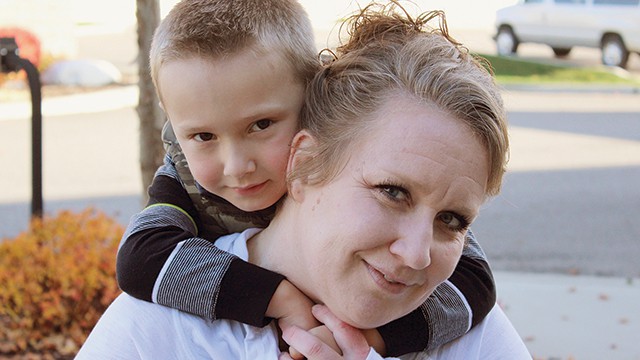 Personal Healing
"If I can't see me the way the Lord sees me," explained Jessie, "there's no way I can love Caleb enough to be the mom I need to be for him… When you start to look at yourself how God sees you – and no matter what He just loves you for who you are – then you can take a step back and be like, Okay, how can I be the mom I need to be for him?"
Elizabeth expressed a similar sentiment.
"When I came here and found freedom, receiving God's love and having this truth in my life that I didn't have to depend on a substance anymore, I started loving Celine more. And the more I started to love God, the more I was able to love her.
"I feel like it's changed the whole outcome of our future, being able to be the mom I've always wanted to be, that I couldn't see when I was in my addiction."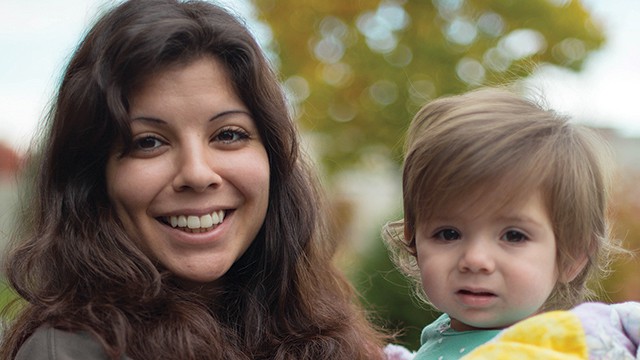 Melissa lost custody of her children, Jayza and Julius, for two years. Once she committed to recovery at UGM, she began the intense, but worthwhile, process of getting them back, and within three months, they were reunited.
"I had this hope in my heart that that would be the outcome, but I just really didn't know if that was gonna happen."
Parenting Is Hard Work
As with most things worth having, putting a family back together isn't easy. The trauma and wounds from the past cannot be erased, and restoring damaged relationships is messy. Melissa described the first several months after she was reunited with her children as tumultuous.
Part of that was coming to terms with the truth of the damage she had done.
"I chose my addiction over them, and it wasn't until after I had some clean time under my belt that I was able to sit in it and think about how it affected my kids. And then, I really didn't feel the full effect until I got them back because I could see for myself how it affected them. That was really hard."
Elizabeth and Jessie also describe challenges in becoming the moms they desperately want to be.
Jessie says she's learned not to parent out of guilt, despite her past. She's focused on being a good mom, now, and a large part of that is simply being present.
"We have consistency… I'm able to focus on him and read with him, and we did a puzzle together – all the things I would never have done before because I was either high or I wasn't aware enough of what he needed from me."
Living clean, these moms' eyes are being opened to exactly what their kids want and need from them.
Melissa said, "Learning about emotions, feelings and didn't know anything about, I have an attachment now with both of my kids and I can love them, and I know how to nurture them and meet their emotional needs."
Because this community provided a safe place for these moms to start over, the future looks much brighter – for the moms and their children.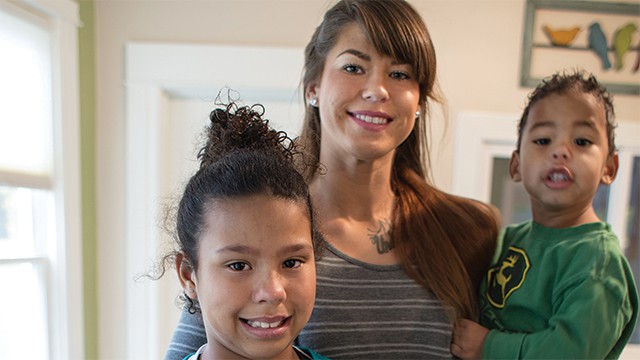 Melissa admits, "I still have so much to learn and so much growing to do." But there's no comparison to the past. "Before, we had a broken relationship, and now, just restoration. Jesus has restored the relationship ten-fold. It's been amazing. It went from totally in pieces to restored and some – He has blessed it."
Thank you for providing all the resources necessary to reunite and restore families, for bringing healing to shattered relationships.
Check out the Impact Blog throughout the month to read more about Elizabeth, Jessie, Melissa, and their children.