Kimmi (Halbrook) Lane arrived at the UGM Crisis Shelter nine and a half years ago as a guest. Little did she know it was the beginning of a journey that would lead her to work with women in crisis right here at UGM. Kimmi is the administrative assistant at the Crisis Shelter, but she wears too many hats there to put them all in her job title.
You can read the first part of Kimmi's story here. This time around, we asked her a few questions about working at the Crisis Shelter from her unique perspective.
You were a "poster child" for UGM a few years ago. Sometimes that attention can become a distraction for our alumni, and they lose focus on their recovery. Do you feel like that was a danger for you?
It probably would have been, left unchecked, but I had a lot of people in my life that were praying for me. And just seeing others around me that were struggling with that; it kind of seemed like it went to their head a little bit. I thought, I don't want that to happen to me.
Was there ever a time when you thought, "I wish I hadn't agreed to be in the spotlight like this"?
No, I'm a "social butterfly on steroids." And it actually keeps me in line, because I know everybody's looking, and maybe that's what I needed for a while. Now, I'm honored that you want to do an update.
God's still on the move in my life, He's still doing good things, and it all stems from the recovery program. I mean, I give it all credit.
I'm over nine years clean. April 11, 2009, was my first day of sobriety and that was at the Crisis Shelter on Sprague. The sign there, "Hope starts here," was what got me to walk through the gate, because I needed it.
Do you feel like the message is the same at the new Crisis Shelter building?
I'm glad that we got to keep it on our door. People say it when they come in, "Hope starts here." Sometimes I hear them reading it out loud, kind of like, "whatever." But then I see them a couple days later, and it's got a hold of them. They see that they have a chance to have a future, and they're trying to make plans. Their demeanor changes so quickly.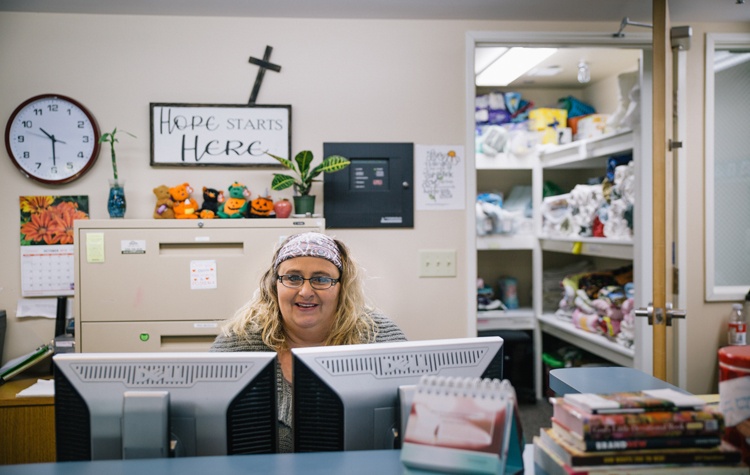 Walk me through how your work day goes.
I get up at 4:30 and come to work at 6 and work until 2. This place is called the Crisis Shelter, and it's adequately named. Crises happen at 6:00 a.m. when I get here. People are wanting to know where they can go, how they can get someplace.
I start at 6:00 a.m. over at the guest check-in desk and I'm getting ladies settled in with whatever they need. They usually need hygiene products, so the desk is hopping with people needing deodorant, curling irons, diapers for kids, what have you.
I've started doing devotionals with the ladies at 7:30 to 8. Monday and Tuesday we do a couple worship songs and then we read a devotional. On Wednesday we do the whole half-hour of just worship songs, so everybody is just shouting out songs they want to hear. We used to do it in the chapel, but now we do it in the day room, because when people are hearing us singing, they're hearing that we're having a good time and so they drop into the day room.
On Thursdays, we're back to doing a couple of worship songs and a devotional. Then on Fridays, we do humor, we do comedy, because I feel that it's really important to get your giggle on. That is what gets me through a lot of times. So, we do listen to a lot of Michael Jr., he has ten-minute videos. So that's a lot of fun, and the ladies really seem to enjoy it. Sometimes I'll forget it's Friday, and they remind me, "We need a laugh today."
I get filled by being around people. That's how I get filled. So every morning doing this devotional is like putting my battery in the recharger.
How much help do you get with taking care of guests' needs from day to day?
We don't have it in the budget to hire a daytime house manager, so we do rely on volunteers. And we do have (associate staff) Jenny, she's amazing. And I'm training a new volunteer today, so in a couple weeks I'll be maybe freed up a little bit and come back over to the admin side.
I'm the fireman, putting out fires all day. I commonly refer to myself as the fireman, I wear many hats around here. But it's okay, I like the hustle and bustle. My day ends fast.
Are you the one who helps residents get into Women's Recovery at Anna Ogden Hall or other programs and services in the community that can help them?
We're working right now with Anna Ogden Hall to build a relationship to make it like an imaginary hallway. That's one of the blessings that the Men's Shelter has, that they're right there in the same place so the recovery program staff can communicate and know the guests because they're in their environment. I think we can make an imaginary hallway between the Crisis Shelter and Anna Ogden Hall to where we feel like we're almost in the same building. I'm excited for that.
Each day I answer a million questions, trying to help residents figure out housing or different problems. I'm always trying to be up on the newest programs that are out there, because they're always changing, because government funding changes. A program that was there for ladies last week may not be there this week and there's always new ones popping up, so I'm always trying to be aware. I go to the Homeless Coalition once a month, trying to just always keep aware of the new programs so I can help the ladies.
Do you feel like women come here because they're lost and don't know what to do next?
Yes. And so I'm telling them about all the different agencies that are downtown. I'm always recruiting or telling them about 211, an information hotline that they can get resources. They call them up and tell them their issue and their job is basically just to look for resources in Spokane and they give out phone numbers. If I'm lost or something or I have a scenario I'm not quite sure of, I call 211.
The Northeast Community Center up here is really cool. They've got a SNAP office in there. They got mental health up there, they've got the CHAS clinic. They'll help you with DSHS. It's becoming a one-stop shop up there, even to get their driver's license or their ID, because all the agencies are there. There's community court, where people go because they've been cited for things when they're homeless.
You sound pretty busy. Do you have to guard your home and family time?
Yes. On Saturdays is me and my family. My husband and I just had our five-year anniversary in August. Then I have my 19-year old daughter, and she has a son. And then I have my 14-year old daughter and she just started high school. I have a 30-year old son and he's doing good.
And then I think I want to start school. Night school is going to be from 6 to 7:30. So I'd leave here, I would go to my mom's and help her out, then go to school.
What's your goal in going to school?
My degree would be in social work and then I'm hoping a minor in mental health. Mental health is either genetic, or it's a cause of addiction, or it's addictions that cause mental problems. Usually you don't see one without the other in some form. I don't know enough about mental health, and I want to. I see it all the time, and I just don't understand it enough. I want to just serve our guests better.
God gives me the tools. The reason why I want to go into mental health is because God has helped me de-escalate situations. I just go do it. I don't know how – it's God. I'm able to talk them down but still give them truth. I'm able to say things that I wouldn't think would fly if I thought about it later, but God makes it work. So I just want to understand, and I want to serve them well.
How can I encourage them? How can I bring up the things I see about them that are mental health issues? I mean, I always want to treat them with respect. And I always want to treat them with kindness. I'm hoping to learn some better skills. I want to treat them well.
I'm transparent about planning to go to school and how scared I am, and I talk about the lies that Satan tells: "You're not good enough. You screwed up in high school. You barely graduated or you didn't graduate. You're going to fail, and you're not going to be able to pay attention," and they're just lies. And because I'm in this environment, I'm always encouraging the ladies, which is also encouraging myself, because I'm hearing what I'm saying. So I'm blessed because I get to say good things. And then I get to hear them, and it helps me walk it out.
What's one of the best rewards of working here?
I am the biggest cheerleader for the recovery program at Anna Ogden Hall. I just really encourage residents to go and apply. Now I've been here for a couple of years, so I'm getting to see them graduate. To see how much they've grown and changed, it makes my heart so happy.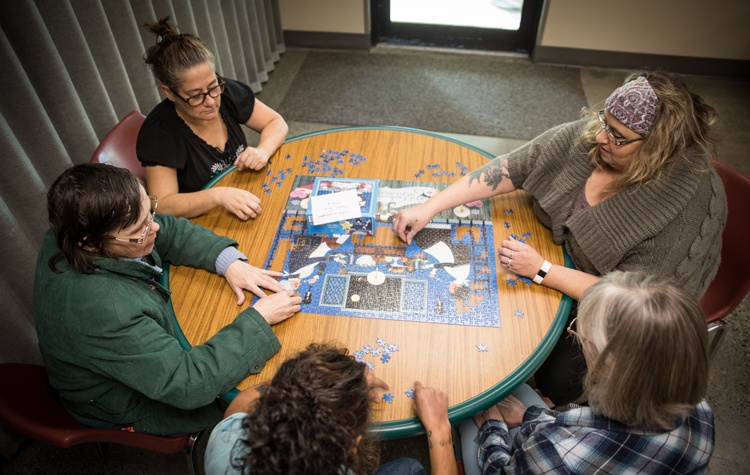 I tell my story. I'm not who I used to be. I know that they don't see it because of the wide eyes they get when I start to share it. But they also know that what I'm sharing is true. I know where I came from. And I know where God's brought me. And so that's how I share Jesus. I don't go and knock on somebody's door and say, "Have you heard the good news?" My way is that they come in and I get to tell them, "It wasn't me that did all this. It was God."
But all of it stems back to the program. It's changed my life, and I tell people all the time. It taught me about boundaries. And it taught me how to process things. I could easily get offended here with people's bad days and attitudes. But I see them past their yuck and I see their pain. And I realize that they're reacting from pain. And that's God that gives that to me, that isn't me.
Do you have favorite scriptures or truths that you use over and over again in your life and work?
I'm still that new creation, the old is definitely gone (2 Corinthians 5:17). I don't know if you noticed, but Christian music these days, a lot of it is saying "fear is a liar." It's like they're really hitting on how Satan just tells you lies, and that it's all fear-based. I'm just always resounding that. There's no reason why we can't be successful, and what success looks like does not mean what the world says it is. It's what God says it is.
You sound like a "hope fountain." Is there ever a time when you just feel really discouraged about somebody who just doesn't seem to get it?
My other truth is you can lead a horse to water, but you can't make him drink. I get frustrated. I want them to do my plan. I want to help them. But I want them to help themselves. I had to learn that boundary: We can't work harder than they do.
We can get wrapped up in trying to help them. I even the other day had to ask for help with somebody that's struggling with mental health. I just want her to "get it," and she's not. She doesn't want to take her medication, and I don't know whether her medication is right or not but she's avoiding getting evaluated. She went to one psychiatrist, but she didn't tell him about her past medications. If she doesn't tell them, they're not going to know that she was on these medications. She doesn't want to be on them so she's avoiding them.
Maybe now she's at a different stage. But somebody needs to evaluate her and figure that out, because she's obviously not completely healthy. And every morning, she gives me a hug and tells me she loves me and how she has Jesus in her heart and everything. Okay, in a group home that might work, but she doesn't really want to go in a group home. She's still able to make her own decisions. So it's hard.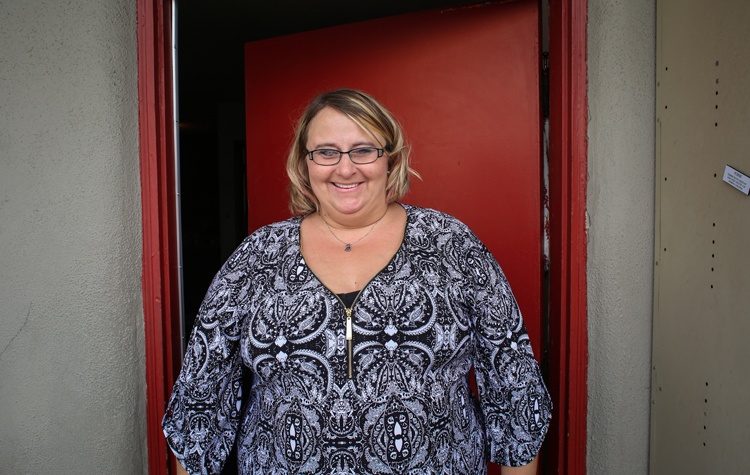 What do you see in your future?
I don't know where God's going to lead me in the next 10 years, but I know that I've come a long way. I know that even being here has trained me how to help with my mom because she has mental issues, so we'll just say that being here has helped me work with my family. It's helped me to be a better family member. I'm very thankful for Him.
I was scared of going back to school and I kept talking about it, and finally I just started saying it out loud so people would hold me accountable. It used to be I'd just tell strangers, people I knew I'd never see again. I was like, "Okay, there's no accountability and I still want to go, but I'm scared. I need somebody to push me off the cliff." I've learned accountability is speaking it out, whether you're struggling or whether you want to accomplish something.
Do you think there are differences between how men and women experience homelessness?
I don't know if there's a difference. There are a lot of ladies that are just getting tired of the deadbeat boyfriends or dads and it seems like they're starting to take a stand, I guess. We get them coming in, and it's not necessarily that he's laid hands on her, but he's not providing, he's not there emotionally, he's not being the head of the household.
Fatherlessness is huge. I've seen how it affects families for generations. Men don't know how to be dads, they don't have the examples. The whole marriage and family thing is lost in a sense.
What has God been doing lately in your life?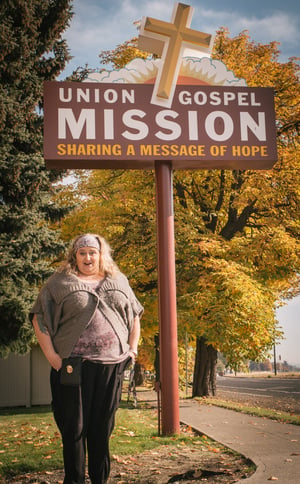 He just keeps filling up my cup. He just keeps giving me enough so I can keep sharing. Because dealing with family and their issues, it could stretch you thin but He just keeps giving me enough to keep going. A couple times I felt drained, I talk about it, I stop and I pray. And I really ask God to keep me going, because He's the only one who can.
Is there anything I haven't asked you about that you're excited about that's going on here?
I'm excited that we have chapel here four nights a week for the ladies. I'm excited that we have classes that teach ladies about boundaries. I just love that we're here. I mean we can offer them so much more. And this is a building that we can take pride in.
And they do. I mean I see them, they'll go out and want to pick up any little trash that's in the grass. They've even offered to go over to Zip Trip and they've picked up cigarette butts in that parking lot area, the dirt field right there. They've gone out there just because and picked up stuff.
And the work therapy's important here. Before when you were bored, you just hung out in your room, which was probably trouble, at the old shelter. Now, they can go volunteer in the department they work in or a different one. So we have ladies in housekeeping that really love the kitchen but they're in housekeeping, so for their extra time they go and help out in the kitchen.
So for the most part, they want to serve, they want to give back, they want to work.
Yes. They're feeling good about what they're putting in. They're like, "Kimmi, you won't believe how much time I did today," or "Kimmi, look what I did, look how clean this is," or "Did you taste that salad I made?" It's cool to see them get excited about something that they did, and it just builds them up. And then they're like, I can do this! They thought they couldn't get a job and didn't care and they didn't think they had worth. Now they're applying for the ERP program. I see change, and I'm blessed.
Kimmi gets to reach women in crisis with hope every single day because of people like you who partner with UGM. Click below to support safe shelter and resources for homeless women and children.