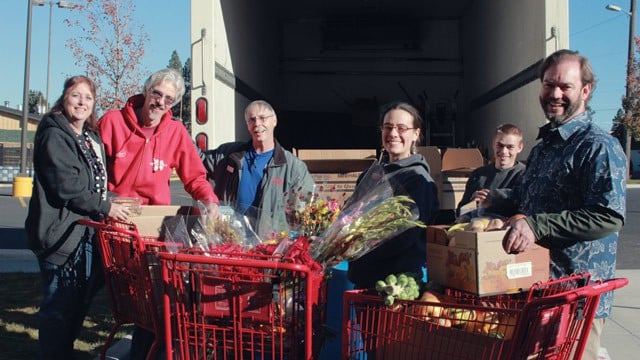 The Union Gospel Mission is currently serving an average of 1,000 meals per day at its four shelters, and if you've ever visited during meal time, you know we're not talking about 1,000 bowls of soup. Recent offerings included: Chicken Paprikash, meatball sandwiches, Eggs Benedict and tacos with Spanish rice and beans.
UGM's commercial kitchens also serve as a training ground for residents – teaching basic knife skills, portion control, presentation, safety and sanitation. Former residents have gone to work in food service for the Davenport, the Spokane Country Club, Centerplate, Riverview Retirement and Yellowstone.
UGM is able to provide all this at the low cost of $1.84 per meal thanks to generous businesses like: Food Services of America, Sysco, Safeway Warehouse, Second Harvest, Pierone's Produce, Darigold, Costco, Olive Garden and more.
After opening in 2011, Trader Joe's quickly became one of UGM's faithful suppliers. "We get things from Trader Joe's that we wouldn't otherwise get," said Chef Steve Viers, "lamb, pork loin, exotic fruits and vegetables. The variety of ingredients is vital to the teaching process, and it's just cool to be able to use healthy, organic products."
It's also cool to be able to feed the hungry in style. More than soup. Indeed.
Read more about what it takes to feed 1,000 people a day.