Stories of family dysfunction, neglect and abuse come to our doors every day. Many people are caught in generational cycles of sin and suffering, from which they don't know how to escape.
At Union Gospel Mission we believe each individual is capable of changing their family's dysfunctional storyline if they're willing to do the work. We help with that work and celebrate it every day, but what does not happen often enough is multiple generations choosing to turn back toward one another and do the hard work to heal together. When we see whole families working on change together, we feel like busting out some dance moves. Nothing makes us happier.
Back in November we shared Aslan's story of growing up without her mom. Her mom is back in her life and Aslan is hard at work learning to parent her son. We decided to sit down with the three of them and try to get a fuller understanding of their family's journey.
Shilo, the thirty-something mom and grandma, started off. "I had gotten pregnant with Aslan when I was fifteen. I lived in a family that had a lot of drug use and a lot of abuse. Aslan saved my life, literally. I've always said that getting pregnant saved me from a deep depression.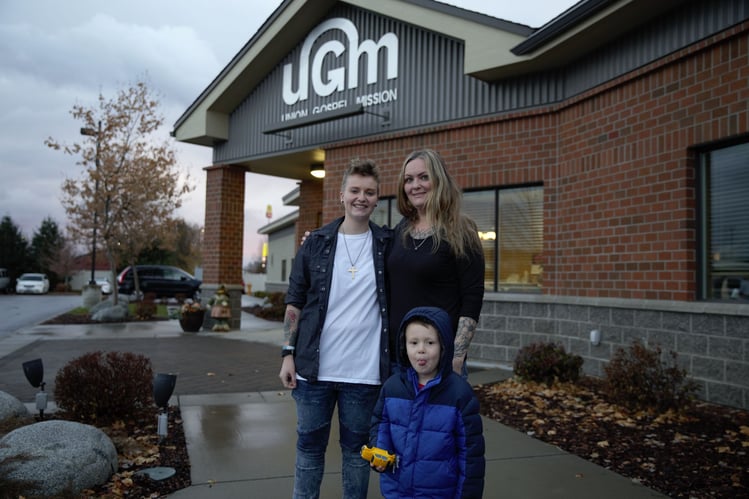 "But I didn't know anything about raising babies. My parents were very much, 'You chose to have her, so you figure it out.' I still went to school. After a little while, I found the wrong crowd to hang out with, and when I was seventeen, my parents kicked me out of the house. It was right after Christmas."
At this point, Shilo was dating the man who would become her husband. "He wasn't making good choices. He was three years older than me. I wasn't making good choices either. Instead of leaving Aslan with babysitters, I just decided to take her with me everywhere." Shilo paints an image of herself and her child driving around town, sharing French fries at all hours of the day. No schedule, no real nurture for either of them. "And then Debbie said I could move in with her."
Ultimately, this was the woman who would become Aslan's guardian. You might remember from the story Aslan shared in November's Mission News, she was raised by a guardian and lived her entire childhood dreaming that her mom would come back and rescue her.
"I don't think she intentionally set out to take Aslan from me," Shilo says. "I think circumstances were brought up that she thought it was a good idea. I was making bad choices. I was coerced, in a sense, to sign my rights away. And once I got a job and got my own place, Aslan was supposed to come back and live with me. And that was the story for the rest of Aslan's childhood." Shilo struggles to explain the situation, calling the whole story a "big blob."
"It's a very messy situation and it's a very confusing and hard story."
For a time, Shilo visited Aslan almost every day, but the two did not live together until well after Aslan aged out of her guardian's care.
Shilo and Aslan both broke into tears during the interview. "It was not the relationship of a mom and a daughter." Shilo struggled with mental illness and drug addiction off and on and, in 2005, wound up entering UGM Women's Recovery at the Center for Women and Children.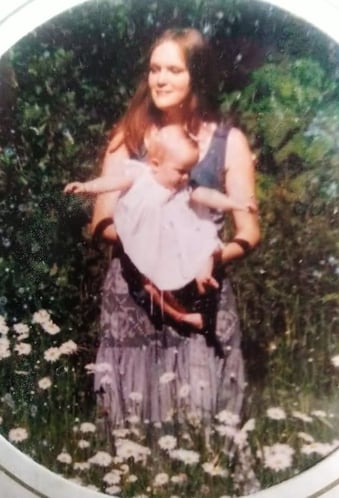 Meanwhile, Aslan was growing up lost and confused. "I wanted to know her. I wanted to live with her. I had this picture my mom gave me. It's of her and me. It was her senior picture when I was a baby. She's holding me in this field of flowers and she's smiling, and my arms are open wide. I still have it. It's up in my room."
For Aslan, this picture was a symbol of the perfect love she was missing. However, when she was eighteen and was legally allowed to move out of her guardian's home, she moved in with her mom, and the two of them learned the hard way that neither of them knew how to engage with one another in a healthy way. "If there was any conflict, I would explode," said Aslan. "I was dealing with the after-effects of the trauma from my childhood and on top of that was all the confusion of, you know, what's true and what's not."
Aslan and Shilo both emphasized how deeply they loved one another and wanted to figure life out together, but Aslan's pain was too deep, and without knowing how to stop it, her life was following the same path of her young mother. She was nineteen when she moved in with a guy, and in less than a year she was pregnant. "When Jaxson was born, I refused to ask for help."
"I think Aslan was missing a fundamental part of connection and nurture," Shilo told us. "When she was pregnant, I watched that manifest, where Aslan was afraid almost, like, 'I'm not going to be able to do this.'"
Aslan added, "So, after a little bit, my mom took him from me. She did the right thing. I wasn't making healthy choices. He wasn't in a safe environment, and I wasn't safe for him or myself."
At this point, Aslan disappeared from her family for six weeks. "We didn't know if you were dead or alive," Shilo told her in the interview. Aslan lived and slept in her car, using drugs and alcohol to numb her sense of confusion and fear. She had no idea how to steer her life in a healthy direction.
Amazingly, God sent an unexpected rescuer. One night, Aslan was being followed. She'd gone to her car, but a van and an older sedan pulled up beside her and one of them opened their trunk. The situation made her feel unsafe, so she started toward the lit street, hoping to find a store to duck into. But nothing was open. She says her heart was racing as she realized both cars were definitely following her. She tried more doors, but soon felt too tired and hopeless to keep running. She fell to her knees and asked God to make whatever was about to happen, happen quickly. That's when a cop pulled up beside her.
Earlier that year Aslan had gotten mixed up in a legal debate with a former landlord. It had not seemed like a problem to her at the time; however, it resulted in there being a warrant for her arrest.
When the police officer discovered the warrant, Aslan said it felt like he had a warrant for her safety. She knew she'd be safe in jail. And something deep inside of her hoped there'd be a chance for a fresh start as well.
"It was a divine intervention," she insisted. "I spent 87 days in jail, and the day after I was released, my mom had set up an orientation at UGM."
Because of her experience at UGM years before, Shilo knew this would be the best place for her daughter to start to heal.
"I don't think that we would be as close as we are right now, but her being at UGM has really set that foundation where we can heal, and I can help her heal from the stuff that she's been hurt from by me. Because I know it did. Ultimately, I did sign those papers. And I know that hurts."
Through tears, Aslan agreed. "And we'll come to a place where we can heal from that, and it will be good."
At this point in the interview, Jaxson stopped running his toy car along the table, looked up, and touched his mom's cheek. "Momma, you crying!"
Shilo added. "Lots of time and healing. It takes a lot."
Shilo explained that she's in it for the long haul because she started the process of healing many years ago and she's still in process. "Her not being with me fueled a lot of my problems. And then I just came to a time that I was like all right, I'm not going to be much of anything if I don't heal from this. You know, Aslan's story is very similar to mine. I didn't know my mom. I was taken from my birth mom. So Aslan's definitely stopping a generational sin that plagued us."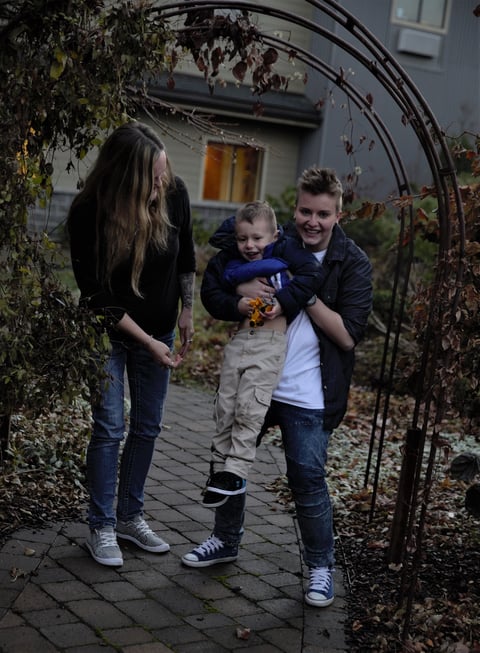 Aslan's dedication to her own recovery is admirable. She's received job training through a practicum at System Restore where she's learned to restore computer systems, she's been hired on full-time, and she's putting away money for an apartment of her own. She wants to pursue a career in cyber security, where she might be able to find and stop online predators. She has a passion for the wellbeing of children, fueled by the many ways she's seen child abuse play out in her own family.
Family restoration isn't magic. It isn't a single moment of healing and then SNAP! all better. No, just like addiction recovery, nurturing a relationship is a daily choice.
Aslan says, "I think this is the best relationship we've ever had because of the amount of work that has been pushed through here at UGM and the trust that I've rebuilt."
Relationships take work. They take work from both sides. No matter what's been done, if two or more people wish to heal together, they each need to put in the effort to repent, forgive and try again. Rinse and repeat. Aslan, Shilo and Jaxson are surrounded by loving support and a strong community. They are doing the work, and Union Gospel Mission is here to provide a safe place for that work to be accomplished.
If you're interested in learning more about the people seeking shelter in our region today, we welcome you to start by downloading our free e-book, Lessons from a Homeless Shelter.