UPDATE: Due to COVID-19, the Negative Split has been postponed until September 27.
"Start strong. Finish stronger." That's the tagline for the Negative Split, but we think it fits well with recovery, as well. Making the choice to change is step one, but sticking with it requires a great deal of strength.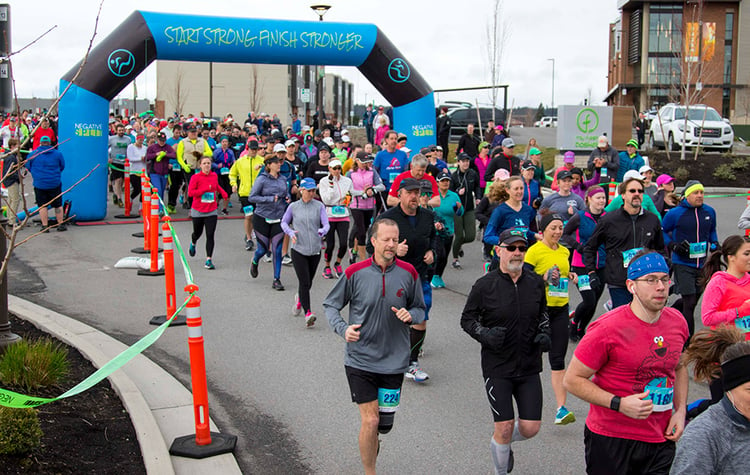 Each Year, Negative Split hosts a community 5k, 10k, and half marathon that starts in the Kendall Yards neighborhood and travels through the heart of downtown Spokane. Their mission is "to inspire health and fitness through training groups, programs, and world-class events. Running a negative split means to finish stronger than you started. We encourage people to not only finish strong in our races, but also in the many journeys they face in life." We can't think of a better race in which to "finish strong" than the recovery journey.

Negative Split will donate a portion of the proceeds from the race to Union Gospel Mission. Additionally, several UGM residents, past residents, volunteers and staff will be participating in the race, and new this year, you can sponsor one of our featured runners to encourage them on the journey. Your full sponsorship donation will come to UGM to provide food, shelter, recovery services and job training.

MIKE SCHMIDT

Mike was an accomplished distance runner, achieving a 4:12 mile and many other successes in college athletics. But, when he graduated with a business degree and no longer had sports to shape his identity, he began to lose his way.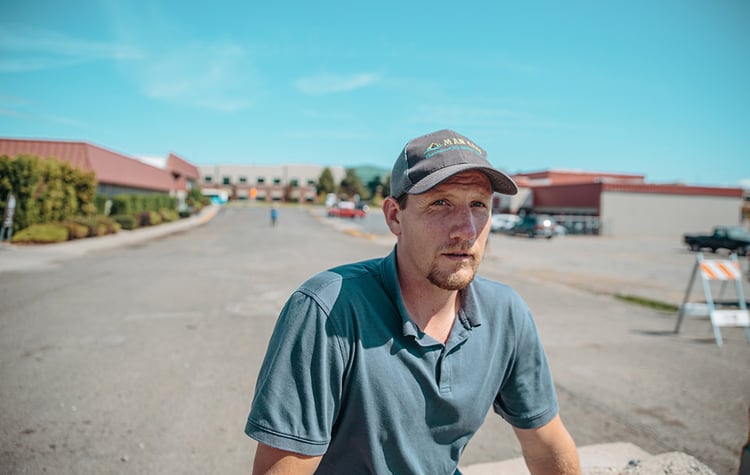 "I think looking back on it, hindsight, a lot of my identity was in running and what it gave me and my accomplishments, acceptance from people from being a good runner, you know? So when you stop doing that or you lose that, it's like who am I? What do I do now?"

At first drinking in secret, Mike came to depend on alcohol to make it through each day.

"When I was drinking, all the anxiety went away. I didn't have any more worries at all. I didn't have any burdens. I didn't have to think about the future. I didn't have to think about what I was going to do in life, I guess. It just became my new normal. Just that feeling, instead of leaning on Christ and his love, I was leaning on alcohol in order to get that release of pain."

The addiction cost him jobs and relationships until he found himself on the streets in California. For three years, he lived by picking up bottles and cans to earn about $20 a day – most of which he spent on alcohol. "I was just kind of existing to exist."

Mike made several attempts at getting sober, but each time he relapsed. "It's a progressive kind of a disease where it just gets worse every time that you go back to it…I just kind of gave up hope."

But Mike's hope has been renewed. He is working hard at his recovery and excited to be training for the Negative Split 5k.

"My hope is that I'm here and I'm staying and that God has intervened and that I can put my hope in Him and recover."


EMILY OLSON

Emily started walking shortly after she arrived at Anna Ogden Hall in February 2018. "Probably four miles a day, three miles a day, whatever I could. It helped me process everything I was going through. All this stuff was being uncovered and dealt with from the past. And so I would walk and I would listen to worship music. You know, it would just remind me that I was loved, and I think there's something about the rhythm of running - putting one foot in front of the other."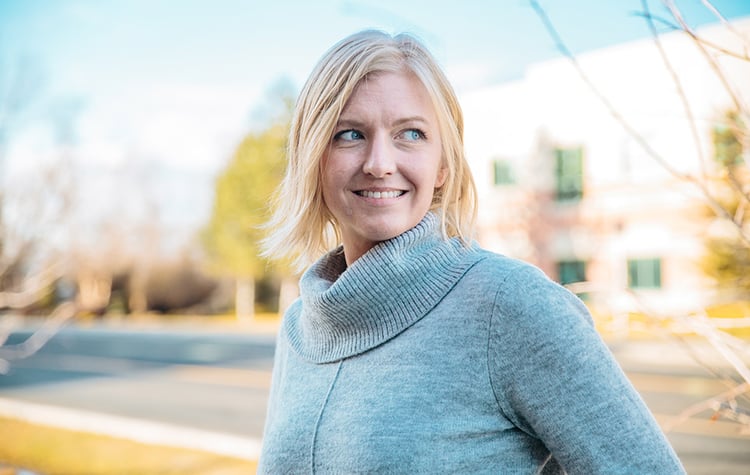 Then, when the Up and Running Again program started training for a half-marathon in June, Emily joined the team. That's when she met Heather (another UGM/Negative Split runner) who had completed both UGM Recovery and the half-marathon the year before. Running was such a significant part of Heather's recovery that she comes back every year to encourage the new women in program. In turn, Emily encouraged and supported Heather as she trained for her full marathon. They have become running partners.

"It's the accountability. Sometimes I get off at 6 a.m. from working night shift, and I go straight to meet her at 6:30. But I knew she was there. You know what I mean? And so, I show up. And I've never once been disappointed that I showed up, you know? I've never thought, Oh, I wish I wouldn't have gone for a run. I'm always glad."

The time to think, the accountability, knowing she can do something hard – and the discipline – have all contributed to Emily's recovery. "Discipline has been huge for my recovery…None of us are motivated 100 percent of the time because we're human and we lose that, but – and this is something I learned at Anna Ogden Hall too – is our thought processes and the power we have over our thoughts. I can choose what I'm going to do. I can choose to train for a half marathon even when I don't want to. Even when I want to stay in bed, I can choose to not. And that's power.

"You know, that's really a lot of power. And it goes with my whole life. With recovery, with my time with the Lord, all of it."

HEATHER POLLOCK

Heather credits running for a huge part of her recovery.

"Honestly, I think that running was 90% of pushing me into total recovery because it just completely changed my life, my lifestyle, my mentality… I seriously was convinced that I was absolutely worthless, that I was… I wanted to die," Heather said.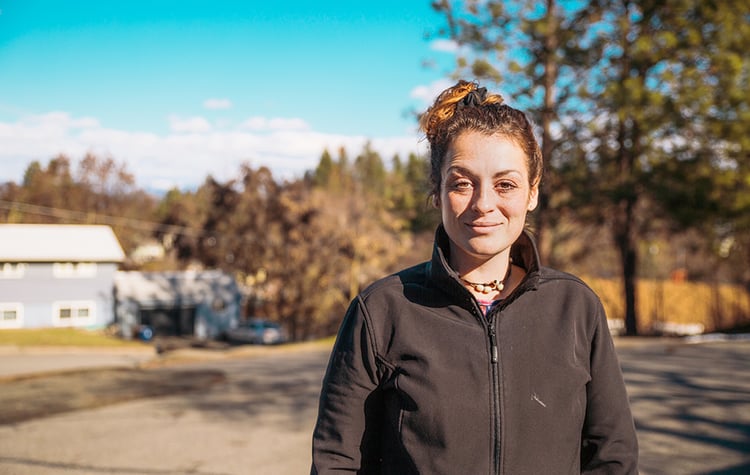 "Everything I thought about myself changed because I went into it just knowing in my mind that I couldn't do it, but then every single day, I woke up and I did it. And I did it. And I did it. And then I ran 13.1 miles. And I did it. It just showed me that I can do anything. I might say something about myself. The world might say something about me - that I can't do it - but when the Lord is with you, you can really do anything. And he was by my side. He was running with me.

"Seeing that I am capable of that showed me that I am capable of having a good life. I'm capable of holding down a job, being a good person, going back to school, pursuing my dreams that I never thought I could do. It just showed me I really can do anything because I did NOT think I could ever run, and now, I'm a runner!"

Heather completed a full marathon last fall. Her enthusiasm for running is contagious. Each year, she goes back to train with the new residents at Anna Ogden Hall. She wants to encourage them that they are capable of amazing things, as well.


JENNY GASPERINO

Jenny's first race was the St. Patty's Day Run in 2012. She ran with her mother-in-law and ended up loving it. Since then, she has run 14 half-marathons, two 15Ks and a full marathon.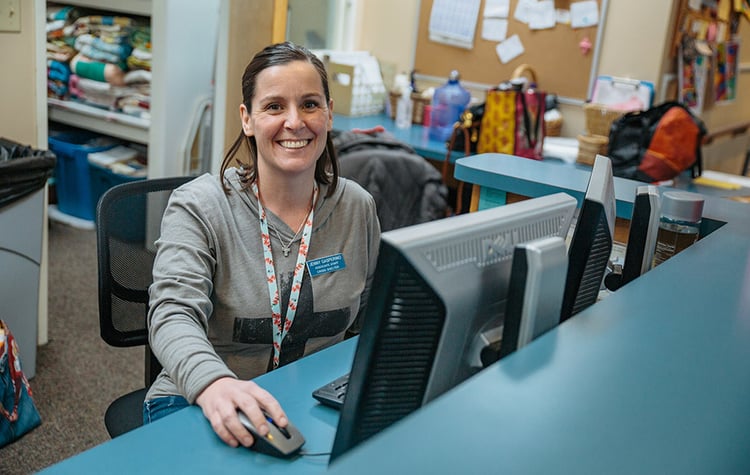 She is a member of the Ridge Runners and runs with them four or five times a week. "I enjoy running with friends and the relationship, but I also enjoy running by myself. "God gives us this beautiful nature all around us. Sometimes we get so busy, we miss it. We are blessed to live in this beautiful area, and when I'm running, I can soak it in."

Jenny, who volunteers at the UGM Crisis, said running also gives her a way to relate to the residents. "They are working so hard to change their lives. It motivates me to work hard, as well. Every day, you have to wake up and make the choice to change."

Whether she's talking about running or volunteering, Jenny insists that she gets as much as she gives.

"Being able to love on people that need it helps me grow, and I love it. I just love it."

When we asked Jenny if she would be a sponsored runner for the Negative Split, it was hard for her to say no. "I love UGM so much. I can't even explain, like it makes my heart happy. I just love being able to tell people about it. I love getting them excited about it."

Jenny is signed up as a UGM-sponsored runner for the Negative Split half-marathon.
We invite you to sponsor one of our runners and - if you'd like to cheer them on in person - Negative Split is looking for volunteers on race day!