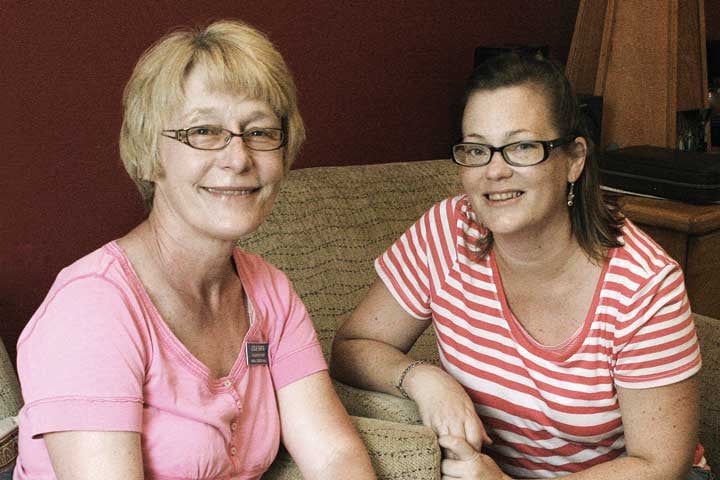 Leslie Barta is an example of volunteering at its best: She's doing meaningful ministry (which uses her skill set and about which she is passionate) to provide a valuable service to people in need while preserving the Mission's resources. Everybody wins, especially the women with whom she works.
Leslie is a case manager working alongside Yvonne Wilhelm, recovery specialist at Anna Ogden Hall. Each week, she meets with three to four women for about 30 minutes and reviews their progress toward various goals, "the practical stuff" such as money management, church attendance, health and wellness, job readiness, etc. For example, one woman wanted to be a truck driver, but she was intimidated by the online tests. Leslie went through the process with her, taught her some test-taking skills and how to study. Eventually, the resident was able to take one of the tests on her own and do very well.
Leslie had a similar experience working with Becca on budgeting. "I was terrible with money in my 30s," Leslie said, "but God took my weakness and made it a strength." She and her husband are now facilitators with the Dave Ramsey Financial Peace University, and Leslie was able to use that knowledge to help Becca get on top of her financial situation. Again, it was an incremental process. First, Leslie made the budget for Becca to follow. Next, they worked on it together. Then, earlier this summer, Becca planned two months' worth of budgets all on her own.
"Watching them succeed in something they've struggled with is a real delight," Leslie said.
If you have an expertise you'd like to share through volunteering, contact Greg Barclay (greg.barclay@uniongospelmission.org) or sign up for one of our volunteer orientations.